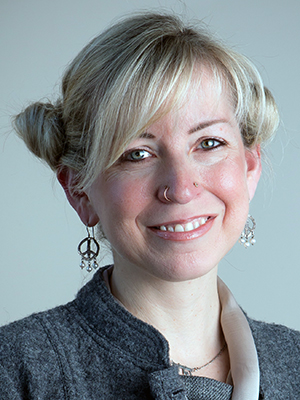 Associate Professor of Political Science
Political Theory
Hollenbeck Hall 212
(937) 327-7992
hwright@wittenberg.edu
Academic Background
B.A. Smith College
M.A. Fordham University
Ph.D. Fordham University, 2006
Awards and Recognitions
Collegium Award for Excellence and Innovation in Teaching, 2013
Fulbright U.S. Scholar Award, 2010-2011, University of

Łódź

, Poland (Lecturing)
Laatsch Faculty Scholar, Wittenberg University, 2010-2011
Wittenberg Gay Straight Alliance Safe Zone Award, 2009
Outstanding Wittenberg Woman, 2008
Senior Teaching Fellow, Fordham University
Bradley Dissertation Fellowship
Bradley Teaching Fellow
Earhart Teaching Fellow
Presidential Scholarship, Fordham University
Publications/Works in Progress/Research Interests
My research and teaching focus on politics and literature (including popular culture), the history of political philosophy, and gender ideology. My dissertation, "Plato's Erotic Politics: A New Feminist Reading of the Symposium" engaged Luce Irigaray's critique of Western philosophy and argued for the relevance of Platonic political theory in thinking about contemporary feminist politics. I have published on Machiavelli, Plato, Irigaray and Don Delillo, and am currently at work on "Gendering Jews in Public Space: Nationalism, Emotion and Anti-Semitism in Poland and the United States."
Courses Taught
POLI 211 Ancient & Medieval Political Philosophy
POLI 212 Modern Political Philosophy
POLI 215 American Political Thought
POLI 216 Family Values: The Politics of Virtue, Care, and Equality
POLI 217 Ideology and Identity in Polish Culture (field study)
POLI 315 Feminist and Postmodern Political Thought
POLI 319 Men, Politics and Popular Culture
POLI 322 American Constitutional Law
Other Positions
Director of Women's Studies
Other Interests/Info
I joined the Wittenberg faculty in 2004. My husband Michael and I parent two wonderful children: Olivia and Noah. I enjoy spending time with our Polish-American French Bulldogs, have served on the Yellow Springs Human Relations Commission, and am a member of the Yellow Springs Havurah.