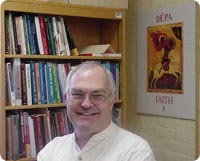 Professor Emeritus of Sociology
(937) 327-7506
jpankhurst@wittenberg.edu
Professor of Sociology, is a noted scholar of the societies of Russia and the Post-Soviet region. He teaches on this topic, as well as on sociology of religion and political sociology. He also has developed a teaching and research specialization on Islam and Islamic societies, with special interest in Egypt. He has coedited two books of original articles on Soviet society, Contemporary Soviet Society (1980) and Understanding Soviet Society (1988) and has contributed articles to several other scholarly collections and professional journals, including Sociological Inquiry, Religion in Communist Lands, Journal of Family Issues, and Journal of Church and State. His co-edited book, Family, Religion and Social Change in Diverse Societies (2000), has recently been published.
He has served as peer reviewer for many professional journals, including the American Journal of Sociology, Journal of Family Issues, Journal for the Scientific Study of Religion, Sociology of Religion, Review of Religious Research, and Soviet and Post-Soviet Review. He has received research grants from the International Research and Exchanges Board, The Center for the Study of World Religions at Harvard University, The Ohio State University, the Kennan Institute for Advanced Russian Studies at the Smithsonian Institution's Wilson Center for International Scholars, and Wittenberg. With this support, he has carried out research at Leningrad and Moscow State Universities; the University of Sofia, Bulgaria; Keston Institute in the United Kingdom; American University of Cairo (Egypt); and the Library of Congress.
Pankhurst received his B.A. degree from Justin Morrill College of Michigan State University and was awarded his M.A. and Ph.D. degrees from The University of Michigan. He also completed additional graduate studies at Leningrad State University and Harvard University. He joined the Wittenberg faculty in 1984.
Dr. Pankhurst in the News