Senior Art Thesis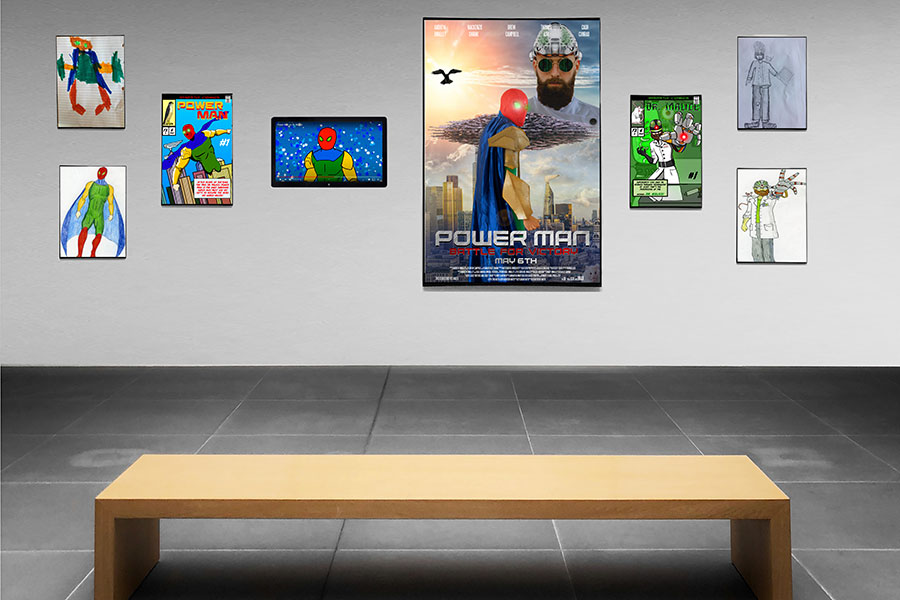 Bio: Andrew O'Malley is an Ohio based artist working toward his BA in studio art at Wittenberg University. He works in photography, digital art, and drawings. His work often consists of imagined characters or fantastical situations, and his process is often very relaxed. This is often the point as he tries to incorporate a certain amount of fun or silliness into everything he does. He began drawing at an early age due to his love of cartoons and attraction to supernatural characters. Sitting in front of the tv, he would wait for his favorite show Ben 10 to come on and would draw every new hero that would pop up on screen. He grew to love comic books as well, and he was inspired by the worlds created by Stan Lee, and drawn by Jack Kirby, Steve Ditko, and Alex Ross. He was voted most artistic in his high school year, chose to pursue art at Wittenberg and received an Art scholarship and Art award for Promise in Art, and he interned at the Cranach Art School in Wittenberg Germany during his semester abroad.
Click Here To View Photo Gallery
Artist Statement: When you see a cartoon character do you imagine what they would look like in real life? Today it's not that difficult to imagine. There are live action film adaptations of everything now, from Guardians of the Galaxy to Pokemon. I was content with cartoons as a child until I saw the first Spider-Man movie, which suggested that he was actually real and out there somewhere. After that, I couldn't help but hope for the same result for all my favorite superheroes. To see a character go from concept, to comic book, to animation, and finally film, it's a fulfilling experience. My thesis project embodies this evolution, and it allows viewers to reflect upon what changes throughout the process. Initially I reached out to family friends and neighbors who had young children and asked each child to draw one superhero and one villain. They offered up some unique characters. In the end I chose the superhero, Powerman, drawn by a five year old boy, and the unnamed villain drawn by an eleven year old boy. A classic caped hero and a mad scientist villain offered the most classic comic book dynamic to build on.
The first thing I did was redraw the characters in pencil. The five year old's drawing was fairly simplistic. I designed a suit loosely based on where he colored things like arms and legs, and a cape. The villain was a little more sophisticated since the child was older. I built on his design of a gross, bearded man, with glasses, a robotic arm, an enlarged brain, and a little rat sitting on his shoulder. For the comic book covers I used a template similar to that of the comic books from the 1960's. The characters were drawn digitally and a little cleaned up. Unlike the villain, the hero wears a full mask; this is often considered to be deceptive and promotes a sense of unease in the citizens (That's why Superman doesn't wear one.) To counter this, I left his hands bare. Gloves are often used to convey a character that has something to hide, and so villains are usually seen wearing them. I named the villain Dr. Malice, and transformed his robotic arm once again to make it look more uncomfortable and dangerous. The enlarged brain turned into a computerized brain to emphasize the technological aspect, his glasses became a visor, and the rat became his symbol of cunning and lowliness. To contrast with this, I gave the hero a falcon as his symbol. In the spirit of simplified animated cartoons, I reimagined the characters again, but made sure to keep what made each of them unique. The story is a battle between the hero and the villain, with the villain attacking first. In the end, we do not see who wins the fight between them. This implies that maybe this will go on for a long time, or that this is a regular occurence.
The last stage of this evolution is the live action movie adaptation. Oftentimes, our very first look at a character in a movie comes from the movie poster. I wanted to make a poster that resembled the world within the animation because for a lot of fans, their fondest version of a superhero is from the cartoons that made them iconic. The hope is that when this project is looked at, an adult may see the movie poster and think back to when they saw the first Iron Man poster. Maybe they'll think about where this blockbuster started out, and what it went through to get there. When a child looks at the poster and thinks back to that Iron Man poster at the movies, they'll see that it all started with drawings like theirs. If they could see what they've inspired perhaps they would have an urge to continue creating things. Then maybe the next superhero poster will be Rock Girl, or Sly Fox, or Cloud Master…