The Nancy L. Benco Archaeological Research Fund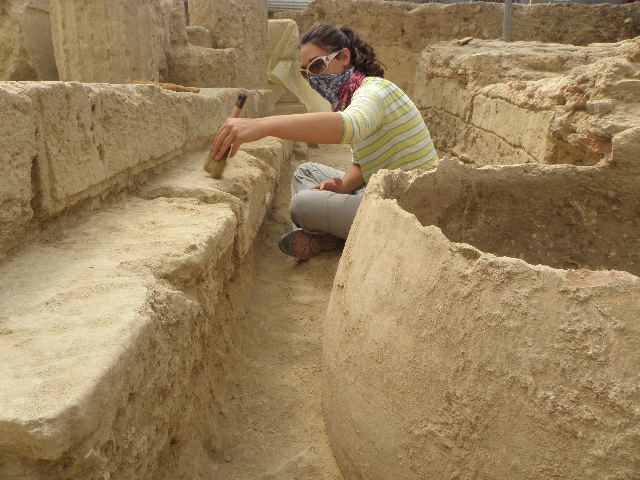 The history department is pleased to announce a new source of funding for students in the history department. The NANCY L. BENCO ARCHAEOLOGICAL RESEARCH FUND is a scholarship created by alumna Dr. Nancy L. Benco, class of 1966 and a professional archaeologist, to help fund history majors and minors who wish to study archaeology and the human past.
This is an academic scholarship aimed at enriching and furthering understanding of archaeology through the examination of material culture. The purpose of the fund is to provide financial assistance to the history department to promote the study and appreciation of archaeology at Wittenberg University through student research, fieldwork and learning experiences for undergraduates interested in the human past around the globe. Both domestic and international projects are appropriate for students to pursue.
Awards may be used for expenses (e.g., travel, food and lodging, registration fees, partial tuition costs) to support the following purposes:
student research in archaeology (e.g., to conduct primary thesis research at historic or prehistoric sites, museums or archives);
student participation in archaeological fields schools (with preference given to those participating in an excavation for the first time); and
student travel to national, regional or local archaeology meetings.
If you would like to participate in an archaeological dig, attend a regional or national archaeological conference, or travel to a site or archive related to the human past, during the summer or fall semester 2013, you are eligible for this scholarship. Awards of up to $1,500 are available. The deadline for being considered for a scholarship for 2015 is March 1, 2015.
Eligibility: If you are a history major or minor and would like to participate in an archaeological field school; conduct research in material culture for a thesis; or attend a national or regional archaeology meeting, you may apply.
Margaret S. Ermarth Award in History
An annual award to an outstanding senior history major who has demonstrated the following:
enthusiasm for and appreciation in history involvement in the process of studying history
involvement in the activities of the department
potential for continuing interest in history
The award, which currently carries with it a prize of $500 and a certificate, is made in the spring at the Senior Banquet.
ATO-Paul F. Bloomhardt Prize for Excellence in History
An annual award to an outstanding junior history major who has:
compiled a good academic record (for example, an overall GPA of 3.0 or higher and a GPA in history of 3.5 or higher)
taken four history courses, with at least one being an upper-level course
shown evidence of a serious interest in history
shown evidence of maturity of thought in the approach to history
The prize, currently $400, and a certificate are awarded at a spring semester History Colloquium.
Martha and Bob Hartje Award in History
An annual award to the senior whose essay is judged best among those submitted by three finalists chosen by the history department to write a 600-800 word paper on an historical event or figure. In order to become a finalist, the student must have at least a 2.7 GPA, have completed at least six history courses and have a keen interest in biographical and narrative history. The award will be approximately $500 and will be awarded at a spring semester History Colloquium. Semi-finalists receive $75.