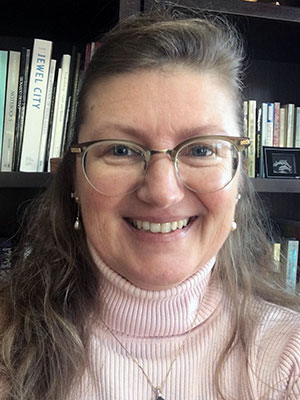 Assistant Professor of Languages
Director, Language Learning Center
Spanish
Hollenbeck Hall 223
(937) 327-6355
hardmanj@wittenberg.edu
Jocelyn Hardman is Director of the Language Learning Center and Assistant Professor of Spanish. She holds a B.A. in Modern Foreign Languages and Literatures (Spanish and Italian) from Kenyon College, an M.A. in Hispanic Literature from Miami University, a second M.A. in Documentary Filmmaking from the Universidad Autónoma de Barcelona, and a Ph.D. in Foreign and Second Language Education (Spanish Linguistics and English for Academic Purposes) from The Ohio State University (OSU).
She lived and worked overseas for many years as an English teacher in Tokyo, Japan, as an Assistant Professor of Second Language Pedagogy and Acquisition at Aarhus University in Denmark, and as a Fulbright Scholar at the Universidad de Concepción in Chile. She also studied abroad in Colombia, México, and Spain. In the U.S., she was recognized as an Outstanding Teacher at Miami University. As an administrator, she directed the Language Program at Antioch College and the Spoken English Program for International Teaching Assistants at OSU.
Her research interests have focused on the factors affecting second language (L2) speech production and perception. She has presented nationally and internationally on pedagogical methods for improving listening comprehension, storytelling, and how to incorporate media and film into the L2 classroom. She has served as a language teacher-trainer both in the U.S. and in Europe.