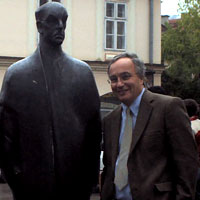 Professor Emeritus of Sociology
Synod Hall 6B
kdoubt@wittenberg.edu
Keith Doubt holds a bachelor's degree from Dickinson College and his master's and doctorate degrees from York University, Toronto, Canada.
His teaching interests include Social Theory, American Social Character, Sociology of Mental Health, Sociology of War, and Interdisciplinary Courses. He has published articles on a range of sociological theorists: Harold Garfinkel, Georg Simmel, Hans-Georg Gadamer, George Herbert Mead, Jurgen Habermas, Talcott Parsons, Erving Goffman, and Kenneth Burke. He is the author of Towards a Sociology of Schizophrenia: Humanistic Reflections (University of Toronto Press), Sociology after Bosnia and Kosovo: Recovering Justice (Rowman & Littlefield), Sociologija nakon Bosne (Buybook), Understanding Evil: Lessons from Bosnia (Fordham University Press), and Through the Window: Kinship and Elopement in Bosnia-Herzegovina (Central European University Press). He is the editor of the interdisciplinary, bilingual journal, Duh Bosne / Spirit of Bosnia. The journal disseminates scholarly research and writing on the history, politics, and literature of Bosnia-Herzegovina to honor and preserve the long-standing traditions of social and civil order that created Bosnia's heritage. The journal has been publishing quarterly for more than ten years.
He was a Senior Fulbright Scholar in the Faculty of Political Science at University of Sarajevo in 2001 and held the Fulbright Distinguished Chair in the Department of Sociology at University of Innsbruck, Austria in 2007. He is the recipient of a third Fulbright Award, a Fulbright Flex Grant, involving both teaching and research in Tuzla, Bosnia-Herzegovina. He joined the Wittenberg faculty in 2000.
Link to Book Nook Interview with Vic Mickunas on National Public Radio, WYSO, about Through the Window: Kinship and Elopement in Bosnia-Herzegovina, January 2016.
Link to Book Nook Interview with Vic Mickunas on National Public Radio, WYSO, about Ethnic and National Identity in Bosnia-Herzegovina: Kinship and Solidarity in a Polyethnic Society, January 2020
Link to Professor Doubt's Web Page
Dr. Doubt in the News