Wittenberg's Washington Semester is a 14-week program where students work at an internship four days a week and take two evening classes.  In addition, students attend weekly field trips, do community service, and are required to attend a congressional hearing and a protest or rally. Students live in apartments in Rosslyn, Va., where the program is located. A consortium of small Lutheran schools called Lutheran College Washington Semester operates the program.
Washington Semester is open to all students regardless of major. Internships can be found that are relevant to any major and typically will count as credit towards the completion of the major (although this varies by department). Recently, students have interned with the White House and on Capitol Hill, with major news organizations (Fox, CNN, etc.), political parties, interest groups and the FBI. Students are encouraged to find an internship that closely fits their interests.
Students are invited to apply during the spring semester prior to the year they wish to participate. The process is competitive, although this should not deter anyone from applying.
Summer Program: Housing arrangements can be made for students wanting to do an internship over the summer. Finding an internship is the responsibility of the student, but the apartments owned by the college are the most cost-effective way to live during the summer in D.C.
Witt in Washington Information Sheet
How much does it cost?
Wittenberg will bill you for tuition plus a $3,600 program fee. In most cases, your complete financial aid package will apply. In addition, students are responsible for their own food and transportation to and from DC. Food costs vary based on how often students eat out (there is a grocery store three blocks away and a full kitchen in the condos).
The program fee and tuition provide the following:
Penthouse condo (shared with up to three others) in RiverPlace, Rosslyn, Va.

Condo includes everything cable, internet, computer, laundry, utilities
Full-time property manager who will fix any problems with the condo
Buildings have 24-hour security
Access to all amenities at RiverPlace (exercise room, swimming pool, etc.)

Internship coordinator who helps you find and secure quality internships

Helps polish cover letters and resume
Provides support if there are any problems with internship

16 credits (8 for internship plus two 4-credit classes)

Classes are Wittenberg approved courses that transfer back with grades and can be used for general education requirements (and in some cases will count towards a major or minor).
Professors are local professionals with expertise and practical experience.

Books for the courses are included at no extra cost.
Tickets for one theater performance and several museum trips are covered.
Invitations to Wittenberg alumni social events for networking opportunities
Option to sign up for a Witt Mentor to a local alumnus who will meet with you over the semester.
Is there any additional financial aid?
Witt in Washington Grant: D.C. Alumni have contributed to a scholarship fund that will provide up to $1,500 in additional scholarship aid. Students with financial need can apply. Scholarships will be awarded based on financial need (as determined by the Office of Financial Aid) and availability of scholarship funds.
How do I apply?
Click here for Application Forms
Fall/Spring Semester
Fill out application form
Return to Dr. Hasecke (208 Hollenbeck Hall)
Wittenberg deadline is March 1
Summer Program
Fill out application form
Return to Dr. Hasecke (208 Hollenbeck Hall)
Wittenberg deadline is April 23
---
Wittenberg Lutheran College Washington Semester Testimonials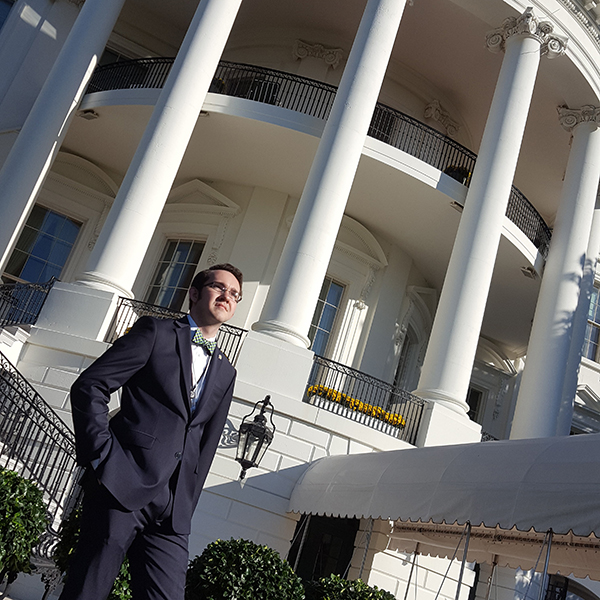 Adam Headlee, Class of 2018 As a political science major, Adam participated in Wittenberg's Washington Semester Program. Working for the Domestic Policy Counsel at the White House, he learned how the institution was actually functioning, far beyond what the media tells us.
"I was the intern on the Domestic Policy Counsel. Basically what I did was a lot of research, which is pretty much the same thing that we are doing in public policy class. For example, I was putting together information to different policy problems and different potential solutions that have been proposed. I also was getting a lot of information and statistics together to give it to my supervisor, and she would use them to make a decision about what she wanted to bring to the table in a larger table between departments." Read More ...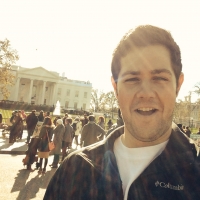 William Downing, Class of 2015. As I am fast approaching the end to my time in DC it is a good time to look back and reflect the LCWS experience. The program in general has been a great time and I could not have asked for a better experience.
The apartments we live in as LCWS students are extremely nice and are located in Rosslyn, VA. Rosslyn is a great location to be in whether you are looking to check out the DC nightlife, want to tour monuments and museums, or you simply need to get to work. The apartments are only one metro stop away from George Washington University and in walking distance of Georgetown which also adds a fun dynamic.
Throughout the program the group of LCWS students participant in a variety of field trips such as touring the White House and sitting in on discussions at various think tanks. Personally, my favorite field trip was the Monuments at Night tour that was guided by one of the LCWS professors. I would recommend to anyone visiting DC to make sure you take the time to walk around the National Mall at night and see the monuments. It truly is a spectacular sight. In addition to experiences with LCWS, being in DC we are able to really see the day-to-day action that occurs. It is honestly amazing to pass politicians on a daily basis.
Being able to attend events for political parties and candidates is a great experience. This week I was also fortunate enough to attend a House Committee Hearing (Pictured). It was great to see first-hand how the committee system works. Also, I attended a protest this weekend which was very interesting (also pictured). I was actually able to interview the leader of the group protesting. It turned out the group was protesting President Obama's address regarding immigration and they opposed what he was doing claiming he was 'overreaching his power'. It turned out none of the people protesting had actually watched President Obama's address either so they actually had no idea what he said. Also I fortunate enough to have lunch with Robert Tack who is a Wittenberg graduate class of 1988.
As a Wittenberg student the local DC graduate chapter is great enough to connect students here with mentors who are Wittenberg graduates that we can meet with throughout our time in DC. In retrospect, the DC experience has truly been a wonderful time.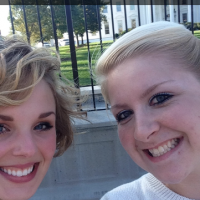 Nicole Cooney, Class of 2016. Originally I thought that LCWS was going to be a great experience for me, but nothing compared to the experience of an international study abroad program that many other Witt students take advantage of. I thought that while this is a perfect option for myself, I was likely going to be missing out on the real study abroad experience. Now that my time is nearing an end I have realized that I could not be more wrong. In fact, this may even be better than an international semester abroad. Yes, spending time in another country is cool and all, but most of the time, at least for me, would be spent exploring the country itself rather than gaining experience and knowledge of things that actually affect me. LCWS, on the other hand, forces us to have experiences, rather than just adventures. Don't get me wrong, I love adventure, and I have had plenty of opportunities for it, but spending a semester away from Witt should not just be about the adventure. Instead, I should have experiences to share, experiences that challenged my way of thinking and maybe even caused me to consider things that I never would have thought about.
Our field trips force us to not only take advantage of all of the opportunities in D.C., but to learn about the country as a whole. We are introduced to so many interesting speakers and places that I would not have decided to attend on my own. I can honestly say that whether I enjoy each field trip or not, I do learn from them. My favorite thus far was our trip to the Newseum. Unlike our other field trips, we were basically given free rein to explore the museum at our leisure. This gave each of us the opportunity to take from it what we wanted. Everyone finds different topics interesting, hence, this allowed us to explore the areas that we were interested in, while simply glazing over those that we were not.
It is not just the field trips though that make this program unique, but the Dean's Requirements. We are not only expected to hold an internship and take classes, but also to complete community service, attend a congressional committee hearing, and attend a protest. Once again, these are not activities that I would have thought to do on my own. I am so thankful for these requirements though. I found community service opportunities that allowed me to spend the night at a homeless shelter, dress up to attend a fundraiser, and to help shelter dogs find permanent homes. Each of these experiences were very different, but I enjoyed them for that reason. I would likely never have gotten the opportunity to attend a fancy event in D.C. had I not volunteered to do so. I also would hope to never need to spend a night in a homeless shelter, until I was introduced to the community service opportunity. Ultimately, the LCWS program has built in expectations that force you to have a well-rounded experience.
I am grateful for the program requirements, which are just enough to keep us busy during the week, so we still have our weekends to experience the tourist side of D.C. I have definitely learned a great deal about myself while being here, but that is a whole other topic. I credit the LCWS program for making those changes happen and providing me with a great experience that I can reflect on and use when I return to Witt. I have learned many things that I would not have learned by staying at school and for that I am grateful. I am not saying the program is perfect, nothing is, but if you open yourself to it and take from it what you need, then I believe that it has served its purpose.