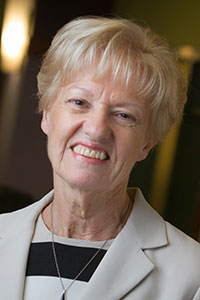 Part-Time Faculty in Education
Blair Hall 216
rworkman@wittenberg.edu
Becky Workman joined the Wittenberg Education Department in the fall of 2005 following 30+ years in public education. After graduating with a B. A. degree in special education from Bowling Green University in 1972, she taught students with disabilities for 4 years at the elementary and middle school levels before becoming a pioneer in developing a program to 'mainstream' them into vocational education programs. During this time, she received her M.A. degree from Wright State University which reinforced her passion for working with students with disabilities and then expanded that need to counseling them as they confronted the many challenges of their disability. In 1995, she completed her Ph.D. from Kent State University with her dissertation focusing on the efficacy of educating students with emotional disturbance. Becky concluded her public education career in the Springfield City Schools as first a school psychologist and then as the district test coordinator.
As an adjunct professor, Becky has taught Introduction to Student with Students with Special Needs, Human Development (now Educational Psychology), and Skills for Collaboration Problem Solving in Special Education and more recently is co-teaching the Senior Practicum. During her 16 years at Wittenberg, she has supervised over 100 teacher candidates. There can be no greater contribution to training our future educators than mentoring and guiding them and working closely with their cooperating teachers. Being raised on a farm influenced her strong work ethic and dedication to educating all children and her unwavering belief that teachers can make a difference. So it was with great pride that she was recognized as Outstanding University Supervisor in January 2020 by Ohio Association Teacher Educators.
Her husband and she experienced a lifelong dream by traveling to East Africa in 2006. Meeting people living in a different culture and wandering among the most diverse accumulation of animals on earth was life changing and created unbelievable memories. She returned to Africa in 2011 to Lesotho to witness first-hand how that country is supporting education for children especially girls and those orphaned by AIDS.
In addition to her interest in Africa, Becky collects Steiff animals (over 300 and counting), enjoys immersing herself in a riveting crime mystery, works out at the YMCA, lunches with friends, and maintains a home in the woods.