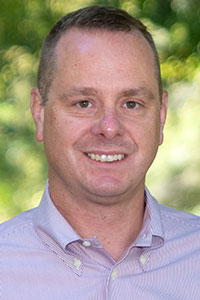 Professor of Education
Interim University Provost
Foundations & Policy
byontz@wittenberg.edu
(937) 327-6403
Blair Hall 210
Brian D. Yontz, Chair and Associate Professor of Education, came to the Education Department at Wittenberg University in the Fall of 2006. From 2006-2009, Brian served as the Director of Student Teaching and Teacher Placement. In the fall of 2009, Brian moved into a full-time faculty position. Administratively, Brian served as the Director of Teacher Licensure at Wittenberg from 2009-2015 and the NCATE coordinator from 2010-2013. Brian teaches courses in education policy, urban education, and foundations of education at the graduate and undergraduate level. In addition, Brian is a Faculty Athletics Representative at Wittenberg, has served as a Board of Examiner member for the Council for the Accreditation of Educator Preparation (CAEP), and is a trustee for the Ohio Association of Colleges of Teacher Education (OACTE). Prior to coming to Wittenberg, Brian was the Partnership and Outreach Coordinator at Wright State University in Dayton, Ohio and worked at Stivers School for the Arts in the Dayton Public Schools.
Brian is the author of multiple peer reviewed articles and book chapters and has presented at numerous state, national, and international conferences. His main areas of research are initial teacher education program policy and design, school funding, and the intersection of society, history, policy, and schools. In 2015, he won the National Scholar Award from the Association of Independent Liberal Arts Colleges for Teacher Education for research focused on alternative pathways of teacher credentialing. In 2018, Brian won the Matthies Award, given to worthy teachers to strengthen the faculty at Wittenberg University. In 2019, Brian received the Excellence in Community Service Award at Wittenberg. In 2020, Brian was awarded the Alumni Association Award for Distinguished Teaching, the top faculty prize at Wittenberg University. One of Brian's professional highlights was the opportunity to study with Dr. John Goodlad and going through the National Network for Educational Renewal's Leadership Associates Program in 2006.
Degrees
Ph.D., The Ohio State University
M.S., Wright State University
B.A., Asbury College