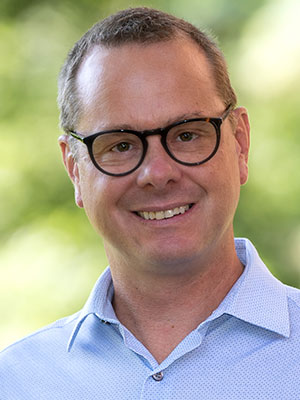 Professor of Education
University Provost
Foundations & Policy
byontz@wittenberg.edu
(937) 327-6403
Blair Hall 210
Brian D. Yontz, Provost and Professor of Education, was named university provost on April 19, 2023, following a national search. Brian served as Wittenberg's interim provost during the 2022-2023 academic year. President Michael L. Frandsen noted after naming Yontz as provost, "As interim provost, Brian set a standard of excellence in his work and furthered our momentum in a way that will position the University's academic program for continued success. I look forward to having Brian's perspective, collaborative spirit, and innovative eye on the senior team, and I'm confident that he will partner with faculty colleagues in advancing our academic program to meet the needs of current and future students." During the 2022-2023 academic year, Brian led Wittenberg's academic program through the AAC&U Curriculum-to-Career Innovations Institute, added a mock trial program, and oversaw the addition of new undergraduate programs in neuroscience, public health, and international business.
Brian joined the Education Department at Wittenberg University in the Fall of 2006. From 2006-2009, Brian served as the Director of Student Teaching and Teacher Placement. In the fall of 2009, Brian moved into a full-time faculty position. Administratively, Brian served as the Director of Teacher Licensure at Wittenberg from 2009-2015, the NCATE accreditation coordinator from 2010-2013, and the Department Chair from 2017-2022. Brian regularly teaches courses in education policy, urban education, and foundations of education at the graduate and undergraduate level. In addition, Brian served as the Faculty Athletics Representative at Wittenberg from 2015-2022, as the Interim Director of the Susan Hirt Hagen Center for Civic and Urban Engagement in 2021, as a Board of Examiner member for the Council for the Accreditation of Educator Preparation (CAEP) from 2013-2016, and was a trustee for the Ohio Association of Colleges of Teacher Education (OACTE) from 2020-2023. Prior to coming to Wittenberg, Brian was the Partnership and Outreach Coordinator at Wright State University in Dayton, Ohio, and worked at Stivers School for the Arts in the Dayton Public Schools.
Brian is the author of multiple peer reviewed articles and book chapters and has presented at numerous state, national, and international conferences. His main areas of research are initial teacher education program policy and design, school funding, and the intersection of society, history, policy, and schools. Brian has received numerous grants and external funding from various government and foundation entities. In 2015, he won the National Scholar Award from the Association of Independent Liberal Arts Colleges for Teacher Education for research focused on alternative pathways of teacher credentialing. In 2018, Brian won the Matthies Award, given to worthy teachers to strengthen the faculty at Wittenberg University. In 2019, Brian received the Excellence in Community Service Award at Wittenberg. In 2020, Brian was awarded the Alumni Association Award for Distinguished Teaching, the top faculty prize at Wittenberg University. One of Brian's professional highlights was the opportunity to study with Dr. John Goodlad while completing the National Network for Educational Renewal's Leadership Associates Program in 2006.
Degrees
Ph.D., The Ohio State University
M.S., Wright State University
B.A., Asbury College