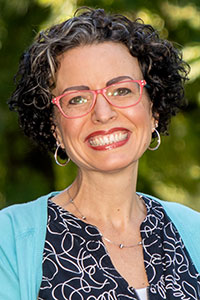 Professor of Practice
Blair Hall 204
(937) 327-6413
bessonl@wittenberg.edu
Layla Besson joined Wittenberg's staff in August of 2020. Prior to coming on board, Layla had been an educator since 1997. Layla spent most of her career as a special education teacher, although she served as a special education administrator for four years, a gifted teacher for three years, and an ESL teacher for one year. She had also taught as an adjunct professor of education since 2001.
Layla's Ph.D. research focused on the professional development of practicing special education teachers. Her data showed that a sizable mismatch exists between research-based methods and actual school district practices. Layla wants to help schools move their professional development practices closer to those supported by research. Layla has presented on a variety of topics at numerous special education conferences in Ohio and other states. She has also delivered special education professional development at dozens of school districts across Ohio. She is passionate about providing pre-service and practicing special education teachers with valuable professional development.
Layla completed her B.S. in Education at the University of Southern California. She earned her M.A. in Special Education from the Ohio State University, and her Ph.D. is from Capella University in Minnesota. Layla is happy to be back in Ohio near family as she grew up in Yellow Springs. She lives in Bellbrook with her husband Brad, their sons Russell, Johnny, and Topher, and their dogs Biscuit and Gravy. In her free time, Layla enjoys home renovation projects and woodworking.