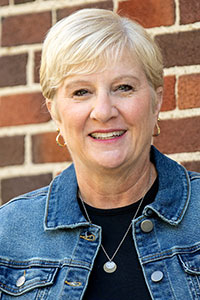 Chair of the Department
Professor of Education
Coordinator of Academic Support
Special Education
sbrannan@wittenberg.edu
(937) 327-6334
Blair Hall 203
Professor of Education. Dr. Brannan joined the Department of Education in 2001. Since her arrival at Wittenberg, Dr. Brannan has been very active in research, teaching, and service. Her primary research examines collaboration among special educators and related health service providers for children and students with disabilities. She teaches in both the graduate and undergraduate degree programs of the Department of Education. Much of her teaching is directed toward the introduction of candidate teachers to the needs of preschool and elementary students with special needs and the appropriate teaching strategies and methodologies that address these needs.
Dr. Brannan has also been active at Wittenberg outside of the Department of Education. She has been involved in the recruitment of prospective students to Wittenberg by participating in programs presented through Enrollment Management. Her interest in welcoming and fostering incoming students to Wittenberg is evidenced by her enthusiastic participation in conferences for The First Year Experience and Students in Transition. In addition, Dr. Brannan has developed and taught 2 courses for the WittSem Program for all incoming students and she has taught in the summer transition to college program. Throughout her endeavors with and for her students, Dr. Brannan sets high goals for herself and her students with every expectation that they will be achieved.
Dr. Brannan received a Bachelor of Arts in Education from West Liberty State University in 1987 and a Master's of Education in Special Education from Ohio University in 1991. Prior to starting her doctoral studies, she served for a period of seven years as the Director of Early Childhood Programs at the Easter Seal Rehabilitation Center in Wheeling, West Virginia. Subsequently, she taught students with severe and multiple disabilities at John Marshall High School, Marshall County Schools, West Virginia, for two years. Dr. Brannan completed the requirements for a Doctorate of Education at West Virginia University. Her dissertation is titled "An Exploration of Interdisciplinary Collaboration when Serving Students with Moderate and Severe Disabilities at the Middle and High School Levels: A Current Snapshot of Perceived Barriers and Opportunities."
Dr. Brannan has given presentations at the national meetings of several professional societies (e.g., The Council for Exceptional Children, The American Association on Mental Retardation, The Association for Severe Handicaps, and The American Council on Rural Special Education) on a variety of topics including: community-based instruction, assistive technology, collaboration, and distance learning. She has served on the editorial boards of "Rural Special Education Quarterly," and "Education and Treatment of Children.