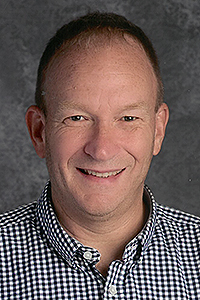 Director of Assessment and Licensure
Blair Hall 224
(937) 327-6318
collinsj13@wittenberg.edu
Jeff Collins, Director of Licensure and Assessment, joined the education department in January of 2017. In addition to teaching classes in the Department of Education, Jeff is responsible for overseeing the department's national accreditation process and assisting students as they pursue an initial education license upon graduation from Wittenberg.
Jeff has been working with middle and high school students for over 20 years in a variety of contexts. From 1992-2000 he served as a youth pastor at Central Christian Church. From 2000-2007, he directed a teen center serving at-risk students. From 2011-2018, he taught middle and high school math and science classes at Yellow Springs High School / McKinney Middle School.
Jeff graduated from Miami University in 1992 with a B.S. in Math and Aeronautics. In 2011, he completed at a Master's of Education at Antioch Midwest. He lives in Springfield with his wife, Helen, and their three children. He enjoys running, riding his motorcycle, cooking, and serves on the board of H.O.P.E. Ministries.