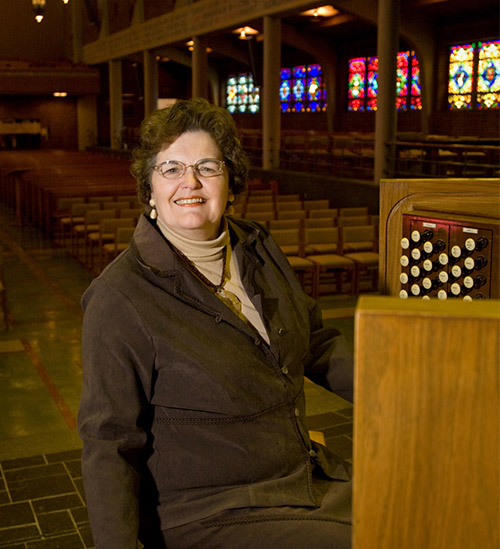 Professor Emerita
Adjunct Instructor
Organ, Piano, Harpsichord
tfaber@wittenberg.edu
Trudy Faber is organist at Covenant Presbyterian Church in Springfield and Professor Emerita Wittenberg, where she teaches organ, piano, and harpsichord. In the spring of 1998 she was the recipient of the Distinguished Teaching Award. One of her senior organ students received a Ruth and Paul Manz Organ Scholarship in 2004. Trudy regularly presents lectures for music history classes and special groups, such as churches and the Women's Association of the Springfield Symphony Orchestra, and gives pre-concert lectures for concerts by the Springfield Symphony Orchestra.
After graduating from Calvin College, Trudy received a Fulbright Scholarship for a year of study at the Amsterdam Conservatory (Netherlands) in organ, harpsichord, and continuo-playing with Gustav Leonhardt, a world-renowned Baroque music scholar. She followed that with graduate work in musicology at the University of Toronto, studying harpsichord with Greta Kraus at the Royal Conservatory of Music, and then completed an M.A. in Music on a full scholarship at Smith College, Massachusetts. Trudy did additional graduate work at Stanford University and the New England Conservatory and studied organ with Anton Heiller and harpsichord with Kenneth Gilbert at the Summer International Organ Concours in Haarlem (Netherlands).
As a recitalist, Trudy has performed in 31 states and nine countries as organist and/or harpsichordist. She has twice performed at St. Paul's Cathedral (London), as well as at Coventry and Guildford Cathedrals, St. John's Cathedral (Albuquerque, N.M.), and Washington Cathedral (Washington, D.C.). She was one of four chosen to perform on the 1997 Distinguished Organists Recital Series at the Cadet Chapel (West Point, N.Y.), playing their 326-rank organ (the third largest in the world) and has performed at the United States Air Force Academy (Colorado Springs). During a single summer, she concertized from coast to coast, performing on an historic organ in Deer Isle (Maine) and playing two recitals at the annual Mt. Angel Abbey Bach Festival (Oregon).
On several occasions, Trudy has performed as the guest artist, both as organist and harpsichordist, with the Springfield Symphony Orchestra. Five times, she has had sabbaticals from Wittenberg to go on European recital tours, performing on the Silbermann organ in Rötha, Germany and at the Castle Church (where Luther nailed his 95 theses) in Wittenberg, Germany in 2007. That year she also presented two recitals in Berlin and gave her third performance at St. Nicolas Church (Bach's church), in Leipzig.
A specialist in Baroque music, she has presented papers, recitals, and workshops on various aspects of dance elements in the music of Bach for colleges, various chapters of the American Guild of Organists, and national and international events. She has given her lecture/recital presentation on "Bach and the Dance" in venues around the country, including national conventions of music organizations. In 2009 Trudy received a major grant from Wittenberg to do research and to perform in Sweden and Latvia. She wrote about her experiences in an article entitled "Reflections on Worship and Organs in Latvia and Sweden," which was published in The American Organist (the international journal of The American Guild of Organists) in 2010.
Another special interest is women composers. As a Wittenberg professor, Faber taught a course on women in music, has given lectures on the 12th-century abbess Hildegard von Bingen, has presented organ and harpsichord recitals featuring the music of women, and has been chosen to give lecture/recitals at national and international conferences on women composers in California, Pennsylvania, Ohio, and Virginia. Faber began teaching at Wittenberg in 1969.