Wittenberg's Music Department is located in Krieg Hall, where students have access to an impressive computer facility, electronic keyboard lab, two concert venues, and many band and orchestral instruments.
Wittenberg's library has an extensive and varied collection of books, music scores, and professional journals, as well as a huge collection of recordings and videos of classical music, world music, and popular music.
John M. Chowning Laboratory for Music Technology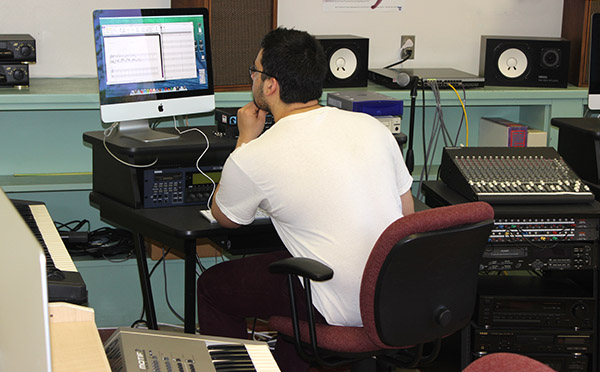 Composer, inventor, and Wittenberg alumnus John M. Chowning (BM '59) provided generous financial assistance for the Music Department's computer lab, which supports students in their studio work and is used for teaching courses in music technology. Six workstations are equipped with Macintosh computers, MIDI keyboards, and software for music production and notation. The lab has a wide array of hardware synthesizers (Kurzweil, Yamaha, and Roland), a theremin, and tools for composing for video. Students can use programs such as Finale and Sibelius for music notation, and Ableton Live and GarageBand for pop music production and mixing.
Evelyn and Harold Figley Electronic Keyboard Lab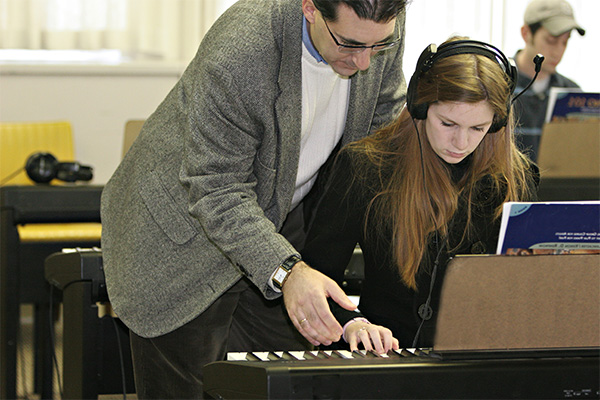 The generous assistance of the Rev. Harold Figley, BS '49, BD '53 (in memory of his wife, Evelyn, BM '52) and the assistance of other alumni has made possible Wittenberg's modern, 16-unit electronic keyboard lab with Casio PX 350 keyboards. Each keyboard has a full 88-note range, 250 preset sounds, weighted keys, and USB connectivity that enables MIDI playback and multitrack recording. All keyboards are networked together through the instructor's MIDI programmable instrument, to allow the addition of MIDI accompaniments.
Music Instruments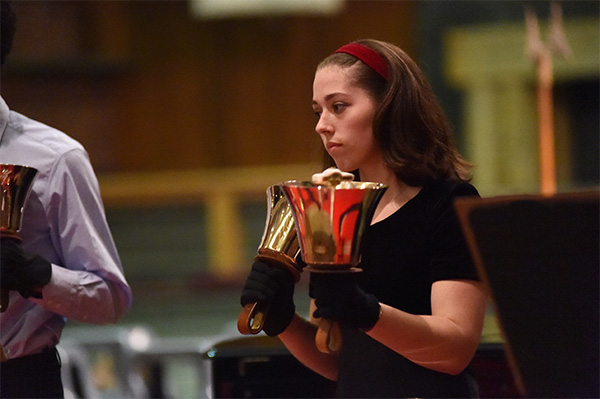 Students and guest artists frequently perform in Wittenberg's newly renovated Krieg Recital Hall, which is equipped with digital recording equipment. A 51-rank, 3000-pipe Reuter organ and a 9-foot Bösendorfer concert grand piano are located in Wittenberg's Weaver Chapel. Students have access to a wide variety of instruments in the music building:
more than 100 band and orchestral instruments for student use
two pipe organs
two harpsichords
a four-octave set of White Chapel handbells
57 pianos, including 23 grands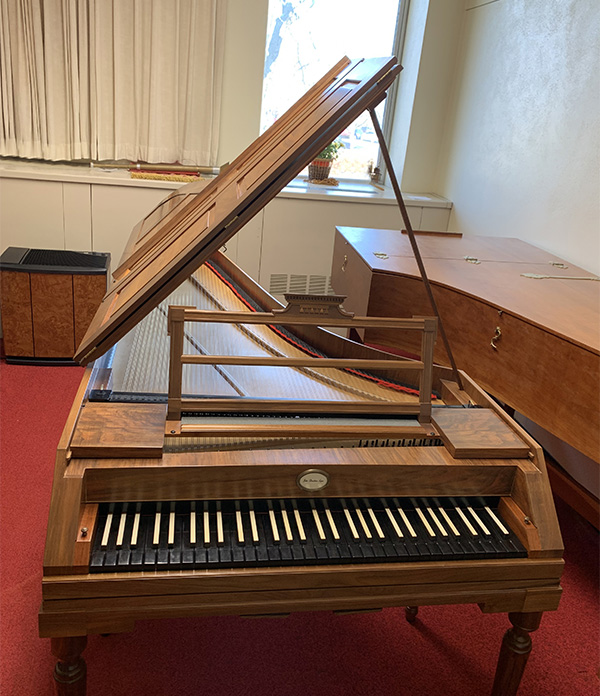 A John Donelson Lyon fortepiano, donated to the Music Department by Nancy Feld in January 2022, is housed in Krieg 312, a humidity-controlled studio that is also home to a two-manual harpsichord. These instruments are readily accessible for lessons and practicing, as well as for recitals in nearby Krieg Recital Hall. The fortepiano is a modern replica of Mozart's 1780 Anton Walter Viennese fortepiano and has these features: a range of FF-g′′′, single-escapement action, knee levers for dampers and moderator, natural key ebonies, bone-capped sharp/flat keys, and a decorative Walter music rack recreating Mozart's instrument in décor, touch, and sound.
Students have the opportunity to perform in four performance spaces:
Krieg Recital Hall
Krieg Hall courtyard
Weaver Chapel, used for performances by Wittenberg's large ensembles, includes a three-manual organ with about 50 ranks, in a style often described as "American Classic."
Founders Pub, in the Benham-Pence Student Center, is used for less formal performances.