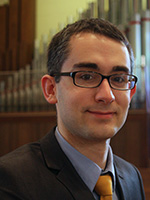 Adjunct Instructor
Music Appreciation; Organ; Handbell Choir;
University Organist and Director of Chapel Choir
creand@wittenberg.edu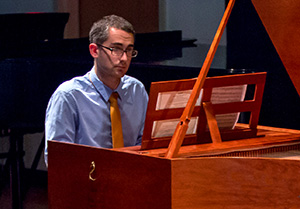 David Crean was a double major at Oberlin College, earning a B.M. in organ and a B.A. in politics. He earned an M.M. at the University of Iowa and a doctorate at the Juilliard School in New York, where he served as adjunct faculty and was the 2014 winner of the Richard F. French Doctoral Prize. His dissertation focused on the life and works of Samuel P. Warren, an organist at New York City's Grace Church in the late 1800s. Dr. Crean has performed throughout the United States as well as in Australia, where his programs have drawn praise for their balance, accessibility, and diversity. In March 2014, David gave his second concert tour of Australia, with performances in Sydney, Canberra, Albury, Goulburn, and Bowral. The tour was supported by a cultural exchange grant from the U.S. state department through its embassy in Canberra. In the past several years, Dr. Crean has served as guest instructor for the Baylor University Summer Organ Academy in Texas, performed the New York premiere of two preludes and fugues by American composer Henry Martin, and performed on American Public Media's nationally syndicated radio program Pipedreams. In Nov. 2014, he was the first performer in the 16-hour Complete Bach Organ Works marathon at St. Peter's Lutheran Church in New York, which was broadcast live by New York classical radio station WQXR. A three-time American Guild of Organists scholarship winner, Crean's former teachers include Paul Jacobs, Lionel Party, Greg Hand, Delbert Disselhorst, and David Boe. Crean wrote the liner notes for Paul Jacobs's Grammy-winning recording of Messiaen's Livre du Saint-Sacrement. Crean has written articles for The American Organist and is an occasional reviewer of publications related to the organ for Notes: Quarterly Journal of the Music Library Association. David joined the Wittenberg faculty in fall 2013.