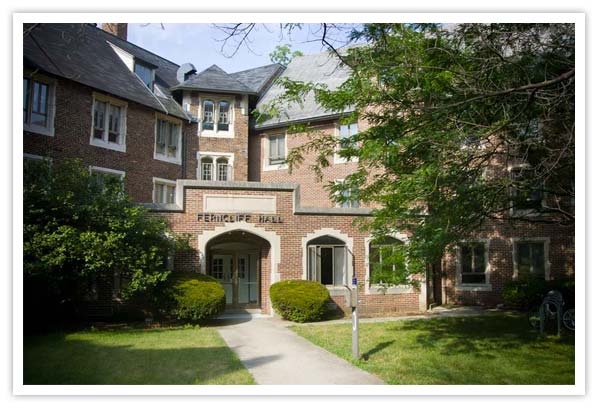 Ferncliff Hall, located on the south end of campus, is a co-ed facility housing 151 students on four floors. The residence features common spaces updates completed over the last three years, including renovated bathrooms, new common space paint and flooring, and new furniture throughout. Residents enjoy the small community feel within a larger building and the proximity to the Witten'Burbs and Koch, Zimmerman, and Science Center.
Ferncliff Hall will be offline for the 2021-2022 academic year.
Virtual Tour 
(Coming Soon...)
Floor Plans
Hall Amenities
Formal Lounge
Informal T.V. Lounge
Ping-Pong Table
Multiple Floor Lounges
Microwave
Vending Machines
VCR/DVD
Cable and Internet access in every room
Laundry Facility
Student Mail Information:
Please Note: Your full name and campus box number must be included on all incoming mail/packages ensuring timely delivery and to avoid unnecessary delays. Your mailing address will differ depending on the method that mail/packages are sent.
Mail/Packages sent via regular postal mail service:
Student's full name
Wittenberg University , Box ______
P.O. Box 6100
Springfield , OH 45501-6100
Mail/Packages sent via FedEx or UPS:
Student's full name
Wittenberg University , Box ______
734 Woodlawn Avenue
Springfield , OH 45504