Welcome Home. It's Good Here.
We're excited to welcome you back to campus housing again next year!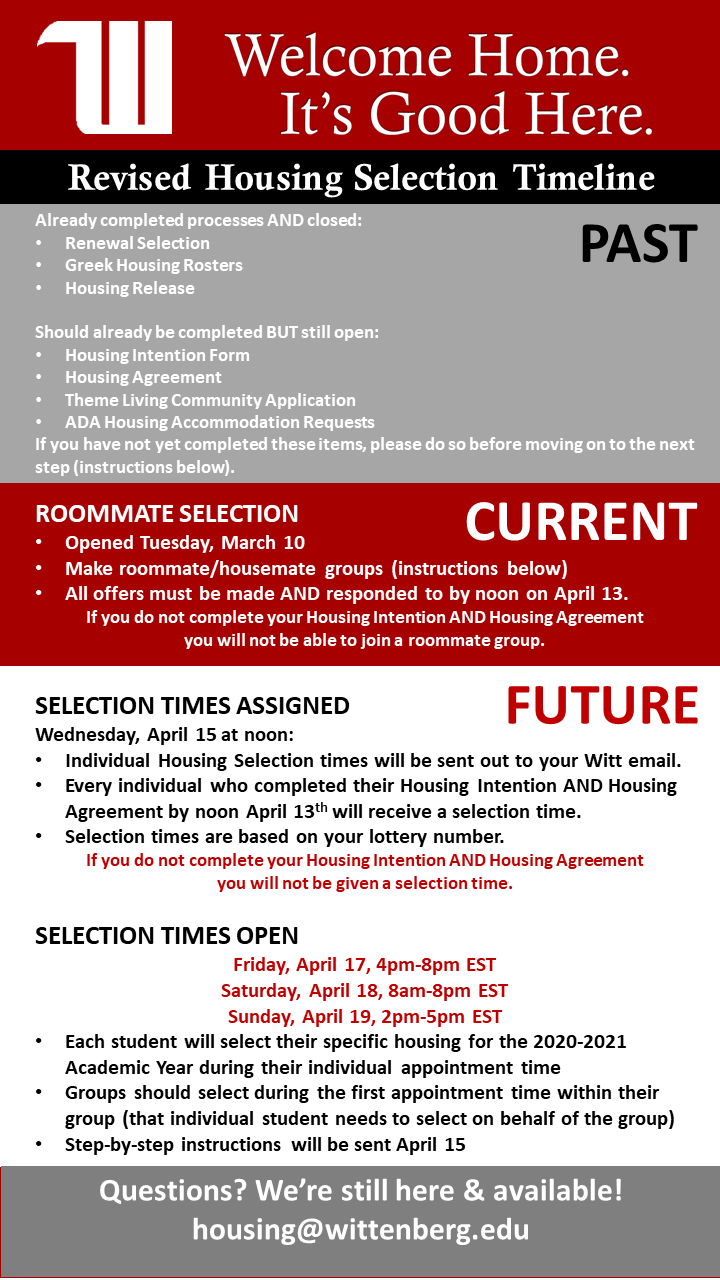 'Burbs properties currently available for Housing Selection:
      *As of 4/13/20 - List is Subject to Change
All full-time undergraduate students are required to reside in Wittenberg housing the entire time they are enrolled and as such should participate in Housing Selection each spring for the coming year. Housing updates, including changes in availability, designations, and rates are announced at the beginning of this process.
Please read through the information below to better understand the range of options, timeline, and how to navigate the new housing software system through which selection will be conducted.
Housing Selection Update (April 3, 2020) - includes step-by-step instructions for Housing Intention, Housing Agreement, & Requesting Roommates.
You can also download the Information Session materials from the links below. Our staff can be reached as well at housing@wittenberg.edu or 937-327-7800 or at Student Development House.
If you have specific questions, please do not hesitate to let us know by emailing housing@wittenberg.edu or calling the Student Development office at 937-327-7800.
If you are interested in learning more about or applying for a Theme Living Community (TLC), click here.
If you need information about how to or would like to begin a request for ADA-related housing accommodations, please click here.
2020-2021 rates, designations, meal plans, etc. are available under Housing Selection on the side menu.
Residence Hall floors plans are available under Campus Housing on the side menu. Witten'Burbs floor plans are available by request only and have limited availability remotely.
Fall 2020 move-in dates, instructions, and packing lists are available under Move-In Information on the side menu.