The Polis House is a gender inclusive space that offers accommodations to approximately 30 students.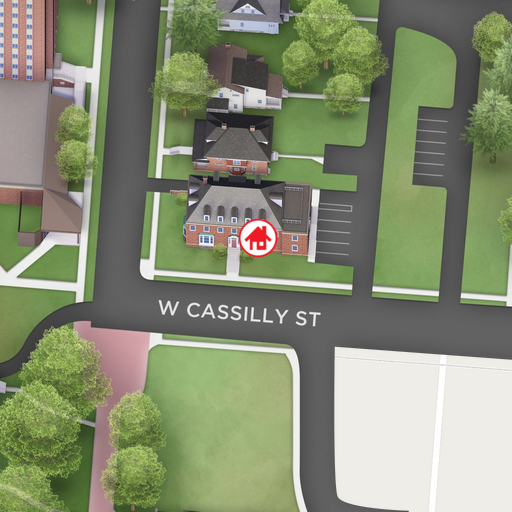 Located in the former Alpha Tau Omega fraternity house on the corner of Woodlawn Avenue and Cassilly Street, Polis House is a gender-inclusive residence hall. Polis House is home to our Tiger Pride Themed Living Community. Providing a purposeful bridge between inclusion and creating space for the safety of this community, Polis House and the Tiger Pride community are connected to the McClain Center for Diversity.
Named after the Greek word polis, which means city-state, Polis House opened as a student residence in 1998. It is centrally located across from Tower Hall, in close proximity to Thomas Library, the Benham-Pence Student Center, and the Health, Wellness & Athletics Complex. Providing a purposeful bridge between culture and conversation, Polis House is a great place to broaden a student's horizons. Features in the Polis House include a large TV lounge, a computer lounge, laundry facilities, and a basement lounge with a full-size refrigerator and microwave, and Polis House is air conditioned.
Floor Plans
Hall Amenities
TV/Programming Lounge- 1st Floor
Gender Inclusive Bathrooms
Gender Inclusive Floors
Full-sized community refrigerator and microwave (Basement)
Air-Conditioning
Laundry Room
Residence Life Links
Location
Polis House
40 West Cassilly Street
Springfield, OH 45504
Google Map
Student Mail Information:
Please Note: Your full name and campus box number must be included on all incoming mail/packages ensuring timely delivery and to avoid unnecessary delays. Your mailing address will differ depending on the method that mail/packages are sent.
Mail/Packages sent via regular postal mail service:
Student's full name
Wittenberg University , Box ______
P.O. Box 6100
Springfield , OH 45501-6100
Mail/Packages sent via FedEx or UPS:
Student's full name
Wittenberg University , Box ______
734 Woodlawn Avenue
Springfield , OH 45504