Thomas Library is a hub of academic activity for Wittenberg University students, providing space for studying, research, meetings, and access to important services through COMPASS: Sweet Success Center.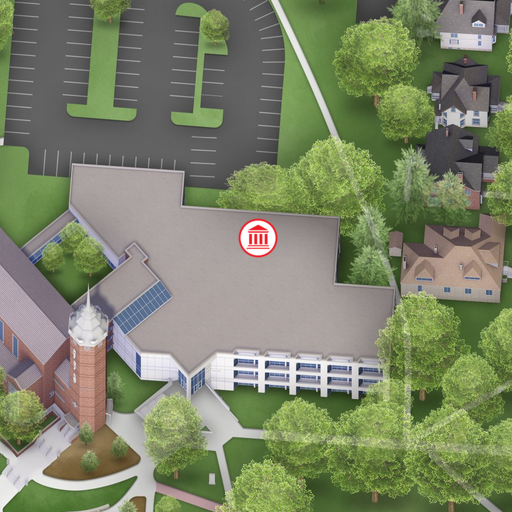 Located across Alumni Way from New Residence Hall and the Benham-Pence Student Center, Thomas Library was built in 1981 and contains more than 350,000 volumes - with the capacity to hold 500,000 volumes - and more than 2,500 periodicals, which are located in the basement of the building. Expansive study space fills the library, and students and groups can also request study rooms.
Many tables and couches are provided to ensure a comfortable study session. Two computer labs are also located in the library. A member of OhioLink, which connects Wittenberg to numerous college libraries for additional research and reference materials, the library also contains the Kemper Special Collection Area. This area contains the Luther-Reformation Collection with more than 400 items written by Martin Luther and his contemporaries between 1517 and 1580.
The Wittenberg IT Solution Center, also located in Thomas Library, offers technical support, computer assistance and computer instruction to the entire campus community for both laptops and PCs.
During the summer of 2016, the main floor of Thomas Library underwent extensive renovation to accommodate Wittenberg's new center of student success, COMPASS: Sweet Success Center. COMPASS is home to offices for Student Employment, Accessibility Services, and Career Services. In 2020, offices and meeting rooms were outfitted to accommodate the Oral Communication Center (OCC), where students can go to get extra help on oral presentations from approved communication majors, and the Writing Center, which offers assistance to students with projects and papers.
In 2019, a beverage station opened on the first floor of the library, adjacent to the COMPASS offices. A variety of hot and cold refreshments are available for purchase, in addition to snacks and pastries.
Departments
Services
Workshops
Location
801 Woodlawn Ave.
Springfield, OH 45504
Google Map