Encircled by Earl F. Morris Track, Edwards-Maurer Field is located on the north end of Wittenberg's picturesque campus. The complex hosts a wide range of practice and competition activities across 10 Tiger intercollegiate teams.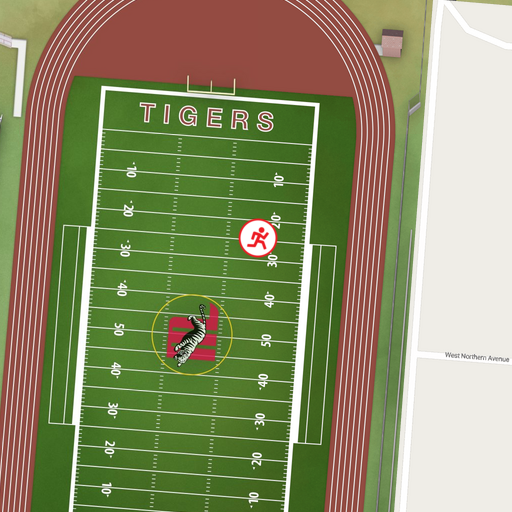 Edwards-Maurer Field serves as the competition home of the Tiger field hockey, football, men's and women's lacrosse, and men's and women's soccer teams. The stadium also hosts outdoor intramurals and high school football, lacrosse, and track events throughout the school year.
Edwards-Maurer Field stands on a site which has served as the home of Tiger football since 1923, field hockey since 1993, lacrosse since 1968 and soccer since 2005. In 1993, the $2.2 million Bill Edwards Drive Project installed Astroturf, lights (for the first time since 1967) and a new track. In 2005, the field's carpet-style artificial surface was replaced with state-of-the-art Prestige artificial turf by Astroturf. The new surface was designed to handle year-round use and the sometimes unpredictable Ohio weather. The versatile field is constructed of 2-1/4 inch blades of artificial grass with granular sand and rubber in-fill, installed by Kiefer Specialty Flooring of Lake Villa, Ill.
The field has played host to countless Ohio Athletic Conference and North Coast Athletic Conference championships, NCAA Division III postseason games, and regular season thrillers over the years. Even on chilly November nights and wet March afternoons, the Tiger faithful pack the stands.
Edwards-Maurer Field - Athletics Facilities Page
Earl F. Morris Track - Athletics Facilities Page
Intercollegiate Teams
Location
250 Bill Edwards Dr.
Springfield, OH 45501
Google Map