Tower Hall is an air conditioned co-ed hall that houses approximately 230 residents on 10 floors.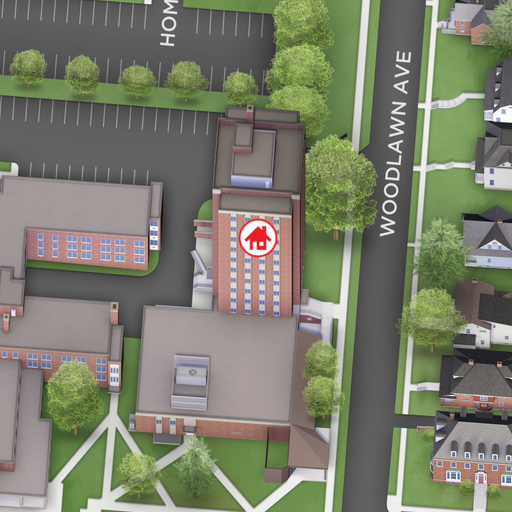 Located next to Firestine Hall and Chakeres Theatre, Tower Hall is the tallest building campus and provides quick access to the Health, Wellness & Athletics Complex and many of Wittenberg's academic and community buildings. Aptly named, Tower Hall is also the largest residence hall on campus with 22 residents on every floor.
There are computer lounges on the sixth and seventh floors, laundry facilities in the basement, and an informal TV lounge on the main floor. Another communal area in the basement offers a microwave oven, along with a pool table and a ping-pong table.
Tower Hall was renovated in 2002, and it offers excellent views of the football field, sunrises and sunsets, and surrounding areas of campus. Residents enjoy the privacy and sense of community within each of the small floors, ample parking, as well as the updated community spaces and convenient location. Tower Hall will be home to second year students for the 2023-2024 Academic Year. (A/C, elevators)
Floor Plans
Hall Amenities
TV/Gaming Lounge (1st Floor)
Large Gaming Lounge (Basement)
Study Lounge on each floor
Ping-Pong Table
Pool Table
Microwave
Laundry Room
Residence Life Links
Location
Tower Hall
909 Woodlawn Ave.
Springfield, OH 45504
Google Map
Student Mail Information:
Please Note: Your full name and campus box number must be included on all incoming mail/packages ensuring timely delivery and to avoid unnecessary delays. Your mailing address will differ depending on the method that mail/packages are sent.
Mail/Packages sent via regular postal mail service:
Student's full name
Wittenberg University, Box ______
P.O. Box 6100
Springfield, OH 45501-6100
Mail/Packages sent via FedEx or UPS:
Student's full name
Wittenberg University, Box ______
734 Woodlawn Avenue
Springfield, OH 45504