Pam Evans Smith Arena, named in 2008 for the legendary women's basketball coach and former student-athlete, is one of the premiere small college basketball and volleyball facilities in the state of Ohio.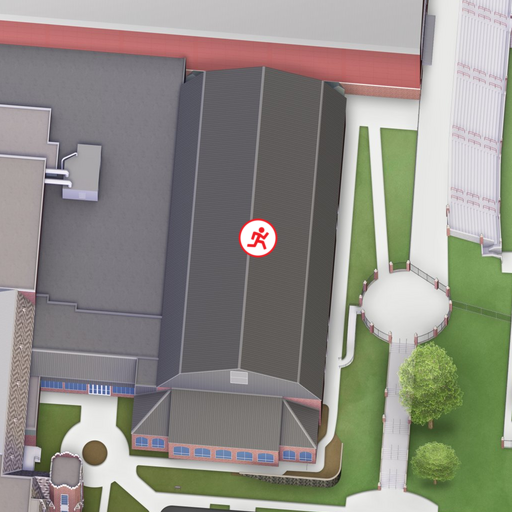 Three full-size hardwood courts serve as the competition and practice home of the men's and women's basketball and men's and women's volleyball teams. The facility also offers indoor training space for many outdoor intercollegiate sports, club sports teams, and intramural activities.
As much a part of the community as Wittenberg itself, the arena hosts local high school commencements, athletics tournaments, youth skill camps, and many other community events. In the event of rain, the university's commencement takes place in Pam Evans Arena.
Collapsible stands seating 3,044 spectators expand to cover the two auxiliary courts, leaving the center court in the spotlight at game time. The arena features scoreboards on the north and south walls as well as a hanging scoreboard at center court. The entire facility is fully air conditioned for comfortable year-round use and measures a spacious 35,000 square feet.
The spacious Jim Acton Press Box and Joe Clayton Memorial Press Table overlook the floor from atop the north stands, with wired and wireless Internet access to accommodate visiting press. The Tiger Sports Network, staffed by a crew of students with interests in careers in digital media, conduct live video and audio broadcasts from the press box.
The basketball and volleyball teams continually fill the arena with excitement, annually hosting North Coast Athletic Conference (NCAC) and NCAA Division III postseason competition thanks in part to the ability of the facility to easily accommodate even the biggest crowds. Restrooms and concessions are located just outside the entrance to the arena, and the locker and training rooms are privately accessible to both teams and officials.
Pam Evans Smith Arena - Athletics Facility Page
Athletics Teams
Location
250 Bill Edwards Drive
Springfield, OH 45501
Google Map