Carleton Davidson Stadium is the home of the Tiger baseball team, and remains one of the premier NCAA Division III baseball facilities in the Midwest.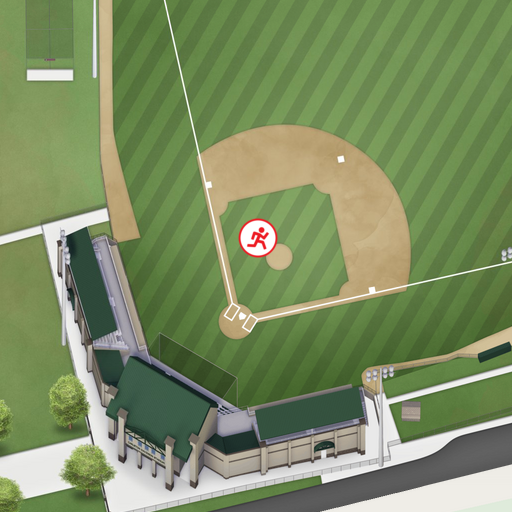 Carleton Davidson Stadium is located just two miles from campus on Mitchell Blvd., next to Buck Creek and near the intersection of Buck Creek and Little Miami Scenic trails.
Built at a cost of $2.66 million between 2003 and 2004, the stadium rivals even minor league parks in design and utility.
The stadium plays as a pitcher's park with expansive foul territory and dimensions of 400 feet to the center field wall, 375 to the left and right-center alleys and 340 down the lines. Enclosed bullpens serve the Tigers down the left field line and the visitors down the right field line, beyond each team's dugout. Offices and locker rooms for both teams and umpires are connected directly to the dugouts, along with secured equipment storage.
Quality lighting is provided by eight towers, four along the outfield fence and two along each line. Lighting was installed by Musco Sports Lighting, which has also installed systems at facilities such as the Lake County Captains, Single-A affiliate of the Cleveland Indians, the Ohio State University's Nick Swisher Field at Bill Davis Stadium, and Marge Schott Stadium at the University of Cincinnati.
Chairback, open air seating behind home plate holds 156 spectators, while bleachers behind the first and third base dugouts each seat 450, of which almost 60 percent are under cover. The stadium boasts plentiful standing room on the concourse behind home plate with easy access to restroom facilities on each side.
Beyond the bullpen and just outside the fence down the left field line are two outdoor batting cages. Around the outer perimeter of the stadium, lawn space provides areas for team meals in between games of a doubleheader, and doors on the exterior facade of the stadium provide direct access to the locker rooms for athletes and coaches.
A paved and lighted parking lot leads to the gates of the stadium, located behind home plate. The entrance gates flank a full-service concession stand and the Springfield/Clark County Baseball Hall of Fame and Museum, which showcases the longstanding relationship between the area and the game. Above those is a spacious, climate-controlled and carpeted press box, where controls for the scoreboard and sound system are located.
In the spring of 2014, 60 percent of the field was resodded and regraded, including all of the foul territory and the infield, as well as all most of left field.
Carleton Davidson Stadium - Athletics Facilities Page
Intercollegiate Teams
Location
1101 Mitchell Blvd.
Springfield, OH 45503
Google Map