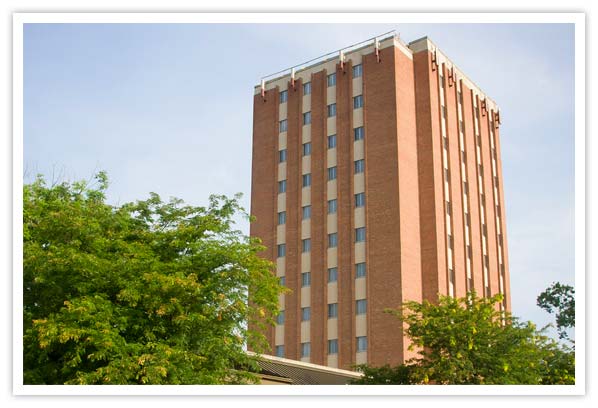 Tower Hall is an air-conditioned, co-ed by floor, hall housing 230 residents on 10 floors. Tower is located near the HPERC and Firestine Hall. The residence was renovated in 2002. Tower offers excellent views of the football field, sunrises and sunsets, and the surrounding area.
2016-2017 Room Rates (per semester)
Double room (per person): $2,579
Virtual Room Tours
Floor Plan
Sample Floor Plan (All rooms in Tower Hall are double rooms)
Even numbered floors are female; odd numbered floors are male
Floors 4, 5, 8 and 9 are designated for first-year students
Room Dimensions
All rooms are 12x16 double rooms
Hall Amenities
Formal T.V. Lounge(1st Floor)
Study Lounge on each floor
Computer Lounge (6th &7th Floors)
Ping-Pong Table
Pool Table
Microwave
Vending Machines
VCR/DVD Player
Cable and Internet access in every room
Laundry Facility (Basement)
2016-2017 Tower Hall Staff
Area Coordinator - Bridget Mearns
Resident Advisors

2nd Floor, Room 201 - Emma Byrd
3rd Floor, Room 301 - Garrett Stout
4th Floor, Room 401 - Angela Galbraith
5th Floor, Room 501 - Andrew Pool
6th Floor, Room 601 - Cassidy Mathews
7th Floor, Room 701 - Justin Wilhite
8th Floor, Room 801 - Grace Mullen
9th Floor, Room 901 - Tiwuan Atchley
10th Floor, Room 1001 - Mackenzie Cameron
11th Floor, Room 1101 - Jason Williams
Student Mail Information:
Please Note: Your full name and campus box number must be included on all incoming mail/packages ensuring timely delivery and to avoid unnecessary delays. Your mailing address will differ depending on the method that mail/packages are sent.
Mail/Packages sent via regular postal mail service:

Student's full name
Wittenberg University, Box ______
P.O. Box 6100
Springfield, OH 45501-6100

Mail/Packages sent via FedEx or UPS:

Student's full name
Wittenberg University, Box ______
734 Woodlawn Avenue
Springfield, OH 45504