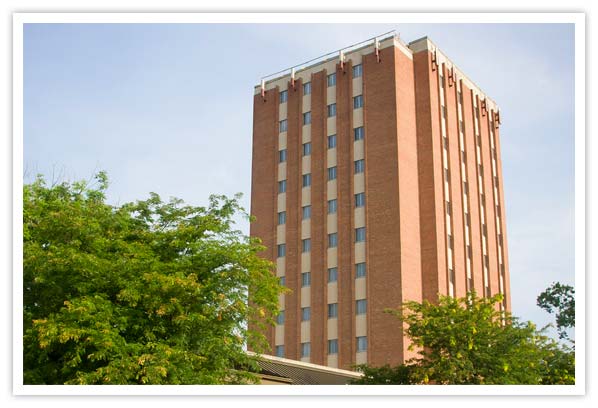 Tower Hall is air-conditioned, co-ed by floor, and houses 230 residents on 10 floors. Tower Hall is located near the HWA, Chakeres Theatre, Hollenbeck Hall and the McClain Center for Diversity & Inclusion. Tower offers excellent views of the football field, sunrises and sunsets, and the surrounding area. Some students and alumni have named it the best view in Springfield. Residents enjoy the privacy and sense of community within each of the small floors, ample parking, as well as the updated community spaces and convenient location.
Floor Plans
Hall Amenities
TV/Gaming Lounge(1st Floor)
Large Gaming Lounge (Basement)
Study Lounge on each floor
Ping-Pong Table
Pool Table
Microwave
Vending Machines
VCR/DVD Player
Cable and Internet access in every room
Laundry Room
Student Mail Information:
Please Note: Your full name and campus box number must be included on all incoming mail/packages ensuring timely delivery and to avoid unnecessary delays. Your mailing address will differ depending on the method that mail/packages are sent.
Mail/Packages sent via regular postal mail service:
Student's full name
Wittenberg University, Box ______
P.O. Box 6100
Springfield, OH 45501-6100
Mail/Packages sent via FedEx or UPS:
Student's full name
Wittenberg University, Box ______
734 Woodlawn Avenue
Springfield, OH 45504