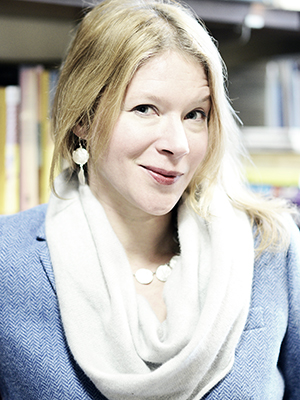 Assistant Professor of English
polakk@wittenberg.edu
(937) 327-7069
Hollenbeck Hall 118
Website: katepolak.com
Kate Polak is an Assistant Professor at Wittenberg University, where she teaches Composition and Literature. She received her PhD in English and Comparative Literature at the University of Cincinnati in 2013. Her work is primarily concerned with the representation of violence and affect. In her dissertation Gutter Love: Historio-Metagraphics, Point-of-View, and the Ethics of Empathy, she explores a number of fictional graphic narratives that depict real-world violence to demonstrate how the genre provides a critique of uncomplicated assertions of empathy. Using texts like Deogratias and Hellblazer, she examines the way in which historiographic metafictional graphic narratives cast off the excessive self-reflection characteristic of graphic memoir in order to expose the distance between the reader and the experience depicted.
Kate's research interests primarily focus on the depiction of violence in literature and other media. In order to better understand this phenomenon, she has studied affect, psychoanalytic, and postcolonial theories, and has investigated apocalypticism and spatial studies. Her research on spatiality and graphic narratives appeared recently in Trespassing, in an article entitled "It Accreted Around Me': Created Space and the Problem of the Name in Lucifer" (Spring 2012). The research towards her dissertation has resulted in articles in Narrative is the Essence of History, which focused on violence and the performance of "authentic" identity in the comic series Scalped, as well as her "Batman Returns (to Class): Graphic Novels and the Syncretic Classroom," which appeared in Teaching Comics and Graphic Narratives.
She received her B.A. in 2005 from the Ohio State for a dual focus in 20th century American Literature and Creative Writing, Poetry. She graduated from the Creative Writing Poetry track at University of Cincinnati in 2007 with her M.A. While her Ph.D. has predominantly focused on cultural studies and critical theory, she has continued to write creatively, and her work has appeared in a variety of publications, including Thin Air and Folio. She is working on a comic series documenting Phone Calls with My Mother, and an autobiographical graphic narrative tentatively entitled Top Heavy, which explores both the humorous and traumatic sides of America's obsession with breasts.