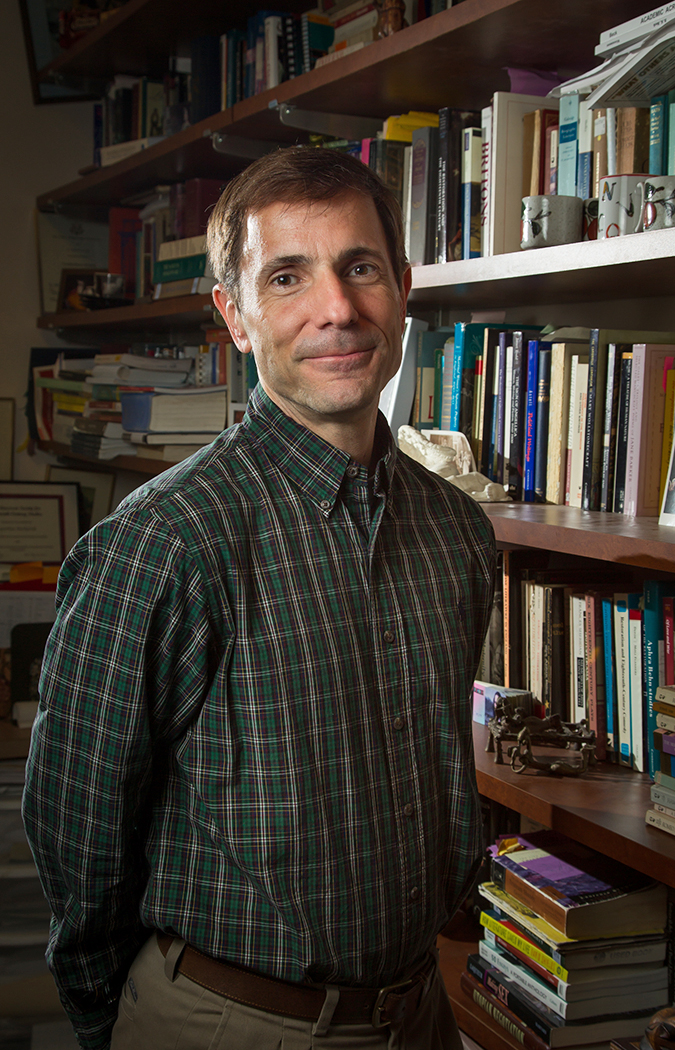 Professor of English
rincorvati@wittenberg.edu
(937) 327-7063
Hollenbeck Hall 116
Profile
Dr. Incorvati's liberal arts education at John Carroll University led to a life-long love of philosophy, ideas, and the written word. After graduating, he moved to Cape Cod where he worked in food service, toured on his bike, and read Moby Dick. That experience led him to pursue graduate study at the University of North Carolina at Chapel Hill, a program that deepened his appreciation of British Romantic literature and nurtured a faith that literature can influence the world around us. In 2002, Dr. Incorvati joined Wittenberg's English Department and began teaching courses in British Romanticism, gender-queer literature, and social advocacy writing. He has edited two novels (Manthorn and Alwyn, the Gentleman Comedian), both by playwright and social reformer Thomas Holcroft, and his article on Holcroft and rhetoric appears in Reviewing Thomas Holcroft.
Notable Accomplishments
Barbara Klass Sokol Progressive Activism Award
The Lillian Franklin Diversity Award
The Lou Laux Environmental Sustainability Award
Courses Taught
Anarchy for the UK: British Romanticism
Flames of Fierce Desire: Rethinking Passion in Britain's Romantic Era
John Keats: Beauty, Love, and Lyric
Writing for Social Change
Justifying the Ways of God to Man: British Literary Genealogies
Literary Form and Interpretation
Gender Trouble: A Survey of Gender Queer Literature
Demons, Devils, and Hellfire: Literary Travels in the Underworld
Intersectional Identities: Making Connections in College Writing
Degrees
Ph.D., English, University of North Carolina at Chapel Hill
M.A., English, University of North Carolina at Chapel Hill
B.S.B.A., Marketing, John Carroll University
Research Interests
British Romanticism
Thomas Holcroft
Gender and sexuality
Sympathy and sensibility
Professional Activites and Social Justice Commitments
Midwest Conference on British Studies
Keats-Shelley Association
Equality Springfield, a local LGBT advocacy organization
Equality Ohio, a state-level LGBT advocacy organization
Youth First Springfield, an LGBT youth group
Welcome Springfield, an immigrant advocacy organization
Selected Publications
"Developmental Stages: Thomas Holcroft's Early Fiction, Elocutionary Rhetoric, and the Function of the Theater in the Progress of Character," an article in Re-Viewing Thomas Holcroft, 1745-1809: Essays on His Works and Life, Ashgate, 2012.

Manthorn, or the Enthusiast and Alwyn, or the Gentleman Comedian, volume 1 of The Collected Works of Thomas Holcroft, a scholarly edition published by Pickering and Chatto Publishers, 2007.

"Darsie Lattimer's 'Little Solidity,' or the Case for Homosexuality in Scott's Redgauntlet," an article in Romanticism on the Net 36, 2005.

"The Poetry of Friendship: Connecting the Histories of Women and Lesbian Sexuality in the Undergraduate Classroom," an article in Teaching British Women Writers, 1750-1900, Peter Lang Publishers, 2005.

"Women's Friendships and Lesbian Sexuality," guest editing and introduction for a special issue of Nineteenth-Century Contexts 23.2, 2002; includes contributions by Stuart Curran, Martha Vicinus, and Bonnie Zimmerman.