The Student Senate is the acting governing body of students on campus.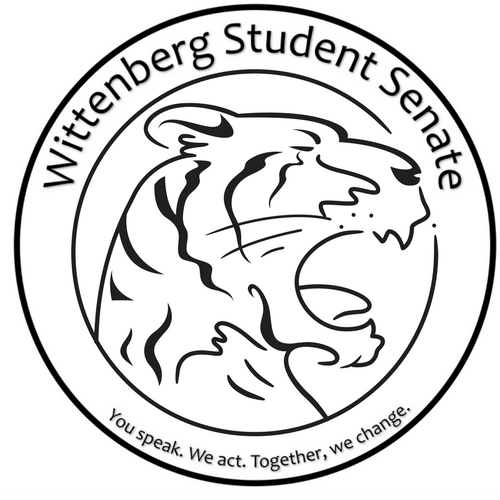 Student Senate, under the authority of the faculty, serves as the student government for the undergraduate student body. Student Senate was established to provide an outlet for student voice and to serve as a liaison between the administration and the student body on matters of concern. With ratification by the faculty, Student Senate determines policies pertaining to student organizations, academic regulation, and many other aspects of student life.
Student Senate consists of an executive branch, including a President, Vice President, Secretary, Faculty Student Coordinator, Senior Class President, and Public Relations senator. All executive positions are elected by the student body and represent the voice of the student body at large. Other elected senators, representing the student body at large and specializing in particular groups on Wittenberg's campus, include our Student Organization Senator, Residential Housing Association Senator, Concerned Black Students (CBS) Senator, Fraternity/Sorority Life Senator, Witten'Burbs Senator, Student Athlete Advisory Committee Senator, Green Senator, Gender and Sexual Diversity Alliance (GSDA) Senator, and Interfaith Senator. All executive and non-executive positions are overseen by the organization's advisor, Dean Casey Gill, who serves as a mentor for Student Senate.
Student Senate also has four representative-class cabinets including a Class President, along with a cabinet of three other members or more, including positions such as a Vice President, Secretary, and Treasurer.
The mission of Wittenberg University's Student Senate is to promote the interests of its students' and the University by overseeing, guiding, and providing opportunities to ensure their voice is heard and understood through events, student organizations, and co-curricular activities. These opportunities seek to represent the students' opinions and beliefs and act on their behalf, serving as a liaison between the student body, the Board of Directors, administration and faculty of Wittenberg University. Student Senate has been established to provide creative opportunities for student self-governance, in matters of student affairs and concern, and to provide a voice of the student body.
The Student Senate is also tasked with managing the University Capital Fund, involving a poll of every current students' Activity Fee, in which each student pays into it yearly as part of their tuition. Student Senate allocates this money to student organizations each year through Tiger Fund and Build a Better Wittenberg. In addition, Student Senate approves all student organizations that operate on campus.
Student Senate meetings take place on Tuesdays at 7:00 p.m. in the Alumni Room in the Benham-Pence Student Center. All meetings are open to members of the Wittenberg community, and we welcome anyone interested in attending or speaking on behalf of bettering our University community.
Click here to learn more about Student Senate
You can reach this organization's officers by emailing studentsenate@wittenberg.edu