Get ready for one of the most anticipated annual Wittenberg events! WittFest is a spring music concert planned by Union Board. Enjoy a day filled with lots of food, inflatables, music, and entertainment. Come out and enjoy the fun on Saturday, April 22, 2023!
All information below pertains to WittFest 2022. Details about our 2023 event will be added to this page as they become available.
Ticket Prices
Wittenberg Student - Free
Non-Wittenberg Student Guest - $5.00
Wittenberg Faculty and Staff - Free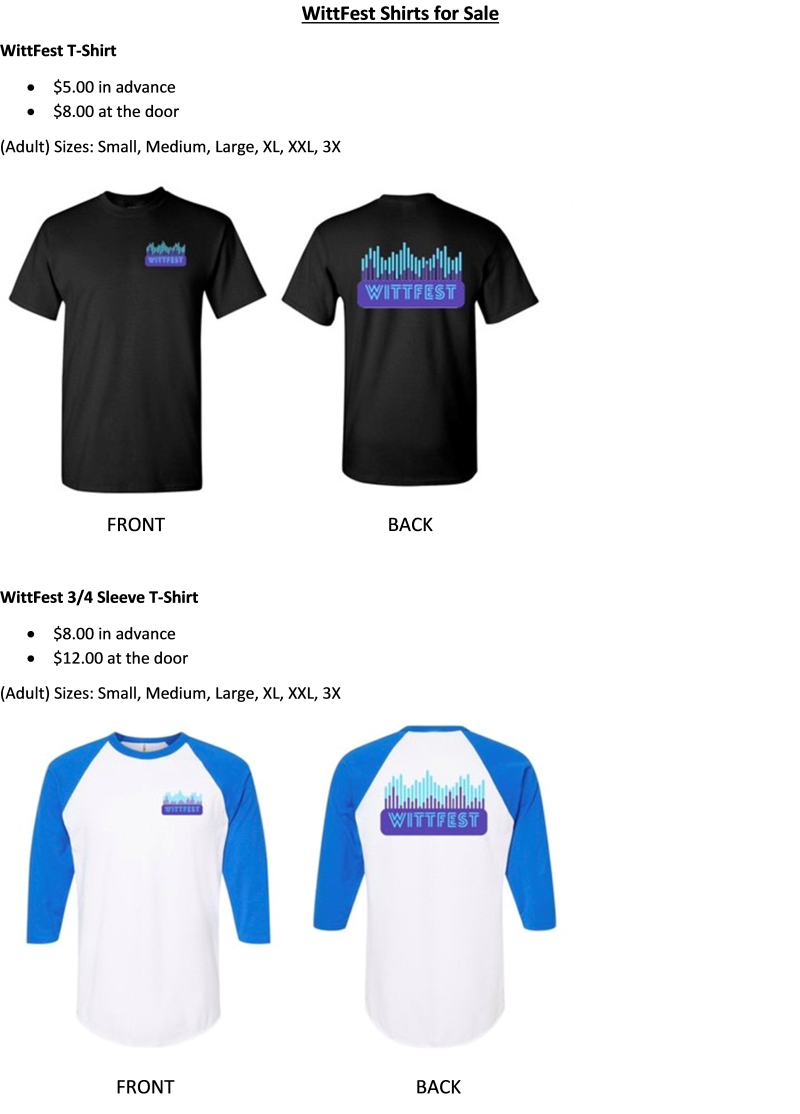 Student tickets and t-shirt sales are now open! To claim your WittFest Student tickets, students must use their student ID number in the passcode box. Student tickets are free but must be reserved in advanced. Students are allowed to bring one non-Wittenberg guest to the event. Guest tickets must also be purchased in advance. Purchasing a t-shirt does not gain you access to the WittFest Concert.
Faculty and staff can reserve WittFest tickets here.
Tentative Event Schedule:
5:00 pm - 8:00 pm - All Campus Meal, Outside of the HWA/Football Stadium
5:00 pm - 7:30 pm - Games & Inflatables, Steemer, HWA
7:00 pm - Door open and merch sales start
7:30 pm - WittFest concert starts with Emcee and comedian Matthew Broussard
8:00 pm - Opening Music Act - Krigare
9:00 pm - Supporting Music Act - Running Lights
10:00 pm - Headliner - Skizzy Mars
Dinner Menu
Veggie Sticks with Peppercorn Ranch
Watermelon Slices
Soft Pretzels with Cheese Sauce
Chicken Tenders
Loaded Tater Tots with Bacon Bits, Cheese Sauce, Lime Cilantro Sour Cream, Shredded Taco Chicken, Jalapenos, Salsa
Beer Brats with Woeber Mustard
Impossible Sliders with Tomato, Arugula, Ketchup or Mustard
Funnel Cake with Sriracha Maple Syrup
Edible Cookie Dough Cones
WittFest Rules & Expectations
Doors will open for pre-concert activities at 5:00 pm. These activities are free and open to the entire campus.
Dinner will be served outside of the HWA and not in the CDR from 5-8:00 pm.
Those students who do not have a meal plan can buy food for $10 at the door (cash only).
Tickets for the concert will be scanned starting at 7 pm outside of the Pam Arena (West side of the building by the football stadium). You will need to have your e-ticket or printed copy ready at the door.
Security will be utilizing wands this year for the safety of all students and guests.
All event participants must pass through security checkpoints at the entrance (Pam Arena).
Once your ticket has been scanned there is no reentry into the HWA if you leave the building.
No outside food or drinks will be allowed.
Small bags or clutches are allowed. Bags must be smaller than 5x8x2. Only one bag per person. All bags are subject to search.
Students and guests who arrive to ticketing who are overly intoxicated/ disruptive will not be allowed entrance into the concert.
Conduct expectations are outlined in the code of conduct and student handbook.
Have fun!
Questions? Contact: unionboard@wittenberg.edu