Wittenberg University Speleological Society, known around campus as the Caving Club and around town as WUSS, is a student-run grotto of the National Speleological Society.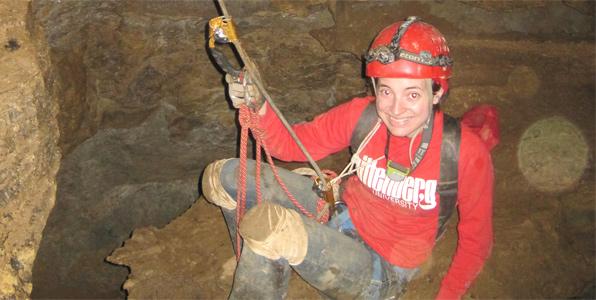 We formed in 1977 and received our charter in 1980. WUSS is funded by Wittenberg's student senate. Anyone is welcome to join who has the slightest interest in caves. WUSS provides plenty of opportunities to get underground, and our officers will teach safe and soft caving techniques. Throughout the year, WUSS has vertical sessions, surveying clinics, and speakers on a variety of topics. If you'd like to learn about something in particular, let us know- we'll probably be able to arrange a session on it. In general, though, we are a research oriented grotto, with frequent forays into the wide world of photography, vertical caving, and conservation. At any given time, we have 3 or more open surveys, a couple of long-running projects.
Activities Include: Meetings are held every Wednesday at 7:00 p.m. during the school year, in room 319 of the Barbara Deer Kuss Science Center. WUSS frequently takes trips to Indiana, other parts of Ohio, West Virginia, and the TAG region. A list of up coming trips can be found on our website, www.wusscavers.com!
You can reach this organization's officers by emailing wuss@wittenberg.edu