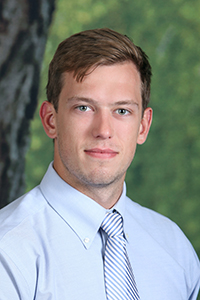 Ryan Maguire is a senior Accounting/Finance major from Cincinnati who spent his summer as a rotational intern at Frank, Rimerman + Co., a mid-sized CPA firm in the Silicon Valley. Working through their three main departments – Audit and Advisory, Tax, and Accounting and CFO services (ACFO), this particular program is ranked #1 Best Accounting Internship by Vault.com, and focuses on the "opportunity to gain practical work experience in a professional environment" (vault.com).
Many of Ryan's experiences at Witt heavily influenced his success this summer.
"Working on teams is really something I have learned at this school. A differentiating factor for Witt is the class sizes and the connectedness. More specifically, each class acts as a learning team lead by a professor. Additionally, the amount of one-on-one face time I have had with my professors has made me more comfortable conversing with superiors in a professional setting."
Being a member of CABLE, or Communication and Business Leadership Experience, is also credited by Ryan as being impactful in his summer experiences. He believes that it "helped (him) deliver more effective presentations," which is the cornerstone of success within any large firm.
As a freshman, Ryan was exposed to economics, accounting and business courses, which he believes benefitted him, and allowed him to truly see what he was passionate about. This exemplifies Wittenberg's commitment to the liberal arts education, which facilitates developing vocation, not solely a career path.
If you are in the process/will be looking for an internship in the near future, Ryan offers the following pieces of advice:
"Start early. Expanding and improving your network should be something you think about each day." Also, he advises, "use the Witt network," citing the importance of LinkedIn, and the ability to connect with alumni by "simply sending messages and asking for a 10 – minute conversation." Finally, he believes in the notion of being "intentional to your path; be open minded about going out of your comfort zone in order to find new learning opportunities."
We, here in the Business Department, are glad to hear that Ryan had such a wonderful experience, and are happy to have him back at Witt for the Fall semester. Best wishes to Ryan, and thank you for taking the time to talk with us.
Written by: Samantha DiGiacomo '18