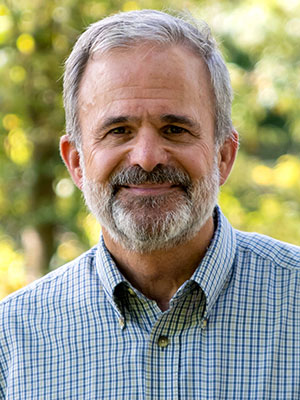 Professor of Geology
Program Director, Environmental Science
Geomorphology, Environmental Geology
BDK Science Center 119
(937) 327-7332
jritter@wittenberg.edu
I teach courses in environmental science, environmental geology, geomorphology and hydrology, and geographic information systems. My professional work focuses on maximizing the ecosystem services our public green and blue spaces can provide. Currently I am working with National Trails Parks and Recreation District and Springfield Conservancy District on reducing streambank erosion along Buck Creek using sustainable materials and re-establishing the hydrologic connection between Mad River and its former floodplain to increase local floodwater storage and nutrient and sediment retention. I have also recently returned to an earlier passion for mapping alluvial fans in the western U.S., this time using photogrammetry and high-resolution images and digital elevation models derived from unmanned aerial systems.
I value the role community can play in educating our faculty and students and am a proponent of using community-based problems in my classes. I believe that students, through their coursework, can be a part of the solution to these problems, no matter the scale of their impact. I am an elected member of the Board of Supervisors of Clark Soil and Water Conservation District and was recently appointed to the Board of Directors of the Springfield Conservancy District.
Education
Ph.D., Geosciences, Pennsylvania State University, December, 1990
M.S., Geology, University of New Mexico, May 1987
B.S., Geosciences, Honors Degree, Pennsylvania State University, August 1983
Awards
1995 ODK Excellence in Teaching Award
2005 Fulbright Scholar to University of West Indies
2013 CASE Ohio Professor of the Year
2016 Excellence in Community Service Award
2016 Alumni Association Award for Distinguished Teaching
Memberships and Offices Held
American Geophysical Union, 1990-present
American Quaternary Association, 1989-present
Geological Society of America, 1982-present, Assoc. Editor of GSA Bulletin, term 1996-1998, Quaternary Geology and Geomorphology Panel Member, term 1996-1998
Recent Publications and Professional Presentations
Ritter, J., Shaw*, K., Evelsizor*, A., Minter*, K., Rigsby*, C., and Shearer*, K., 2013, Assessing stream restoration potential of recreational enhancements on an urban stream, Springfield, Ohio, in De Graff, J.V., and Evans, J.E., eds., The Challenges of Dam Removal and River Restoration: Geological Society of America Reviews in Engineering Geology, v. 21, p. 133–148.
Barbanell, E., Jarchow, M., and Ritter, J., 2019, Using Ecosystem Services to Engage Students in Public Dialogue about Water Resources, in Interdisciplinary Teaching about Earth and the Environment for a Sustainable Future, Gosselin, D., Egger, A., and Taber, J. (eds.): Association of Environmental Sciences and Studies (AESS) Book Series, Springer, p. 179-196.
Ritter, J. B., 2021, Paint Creek State Scenic River Designation Study: A Study of Paint Creek and its Tributaries for Inclusion in Ohio's Scenic Rivers System, prepared for Rivers Unlimited, posted by Ohio Department of Natural Resources for public comment https://ohiodnr.gov/static/documents/natural-areas/SR-studies/PaintCree…, 135 p.
Ritter, John B., 2017, Scalable and sustainable service learning opportunities related to stream management: Geological Society of America Abstracts with Programs. Vol. 49, No. 6.
Ritter, J.B. and Muhlenkamp*, Q.E., 2018, Using spatial multi-criteria evaluations to assess understanding and ability in an introductory GIS tutorial course: Geological Society of America Fall Meeting, Indianapolis IN, Abstracts with Programs. Vol. 50, No. 6.
Ritter, J.B. and Seitz*, K., 2021, Revisiting Multiparameter Relative-Age Methods For Mapping Late Quaternary Fan Deposits Of The Soda Mountains, Mojave Desert, California, With Structure-From-Motion Photogrammetry: Geological Society of America Abstracts with Programs. Vol 53, No. 6, https://doi.org/10.1130/abs/2021AM-370927.
Bender-Awalt, M., Iverson, E., Szymanski, D., Erhemjamts, O., Lenczewski, M., Mooney, C., Oches, R., Ritter, J., and Wilson, R., 2021, Assessing Student Learning About Sustainability And Wicked Problems Through Transdisciplinary Curriculum Modules, Geological Society of America Abstracts with Programs. Vol 53, No. 6, https://doi.org/10.1130/abs/2021AM-370066.
Ritter, J. B. and Smith*, C. D., 2022, Connecting Academy Expertise to Community Need to Maximize the Use of a Former Community Golf Course with a Focus on Flood Storage Potential: Geological Society of America Abstracts with Programs. Vol 54, No. 6. https://gsa.confex.com/gsa/2022AM/meetingapp.cgi/Paper/380264.