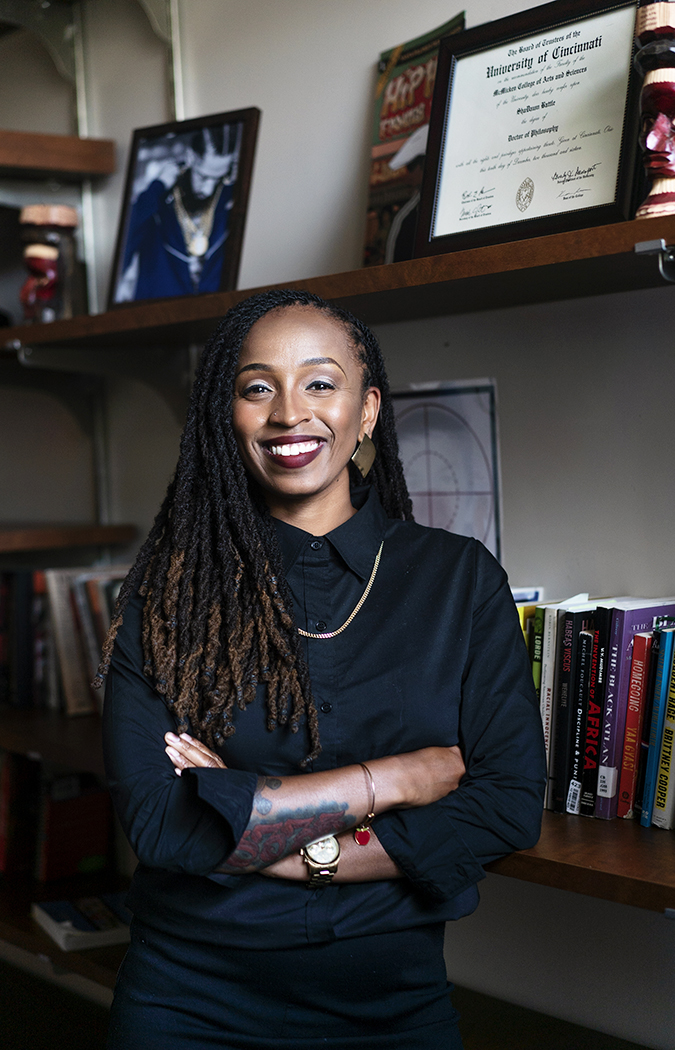 Assistant Professor of English
battles@wittenberg.edu
(937) 327-6127
Hollenbeck Hall 119
Profile
Proud Chicago native, ShaDawn "Boobie" Battle is an Assistant Professor in the English department.  She earned her PhD in literature from The University of Cincinnati in 2017.  At Wittenberg, Dr. Battle teaches composition and African-American Literature with an emphasis on the Black musical tradition (hip hop especially). Some of her courses include, "Writing Through and About Popular Culture," Advanced Grammar and Composition," "#SayHerName: Examining the Invisibility of Black Women and Girls in Literature, Media, Medicine, and the Justice System" (co-taught with Dr. Nancy McHugh), "Black Women Writers,"  "African-American Protest Literature and Music," and "African-Diaporic Literature" (forthcoming). Her research interests include African-American Literature, Afro-Diasporic Studies, and Hip-Hop Studies.  Dr. Battle writes on Black masculine and feminine politics, intersecting hip hop, anti-colonial discourse, critical race theory, epistemology, and literature that spans the Black Diaspora.  Her most recent publications include, "Singing the 'Blues' for Black Male Bodies: Epistemic Violence, 'Non-Alterity,' and Black Male Killings" (Making the Case, forthcoming) and "A Genealogical Interpretation of Plato's Allegory, Through the Lens of Jay-Z, the Re-Envisioned "Philosopher King" (Black Camera, 2019).  Dr. Battle's current research project explores Chicago Footwork culture, its Afro-spiritual heritage, nation-building, race construction, and the politics of "home."  In addition to composing a manuscript on Chicago Footwork, she is currently directing and producing a documentary on the dance form (of which she is a practitioner), titled, The Evolution of Chicago Footwork: A Documentary (2020).  Dr. Battle is also a lover of dolphins, dogs, Baldwin, basketball, Jay-Z, and family (#8335).
Notable Accomplishments
2011-2014: Full Graduate Scholarship to The University of Cincinnati
2014: Completion of Qualifying Examinations with a "High Pass"
2011-2014: Recipient of Alfred Yates Scholarship Award (The University of Cincinnati)
2007-2009: Full Graduate Scholarship to Wright State University
2007: Summa Cum Laude (Central State University)
2007: Gold Cord Honors (Central State University)
Courses Taught (selected)
Standard English Composition courses, 101 & 102
ENGL 101: Rap and Rhetoric (Wittenberg University)
ENGL 180: African American Protest Literature and Music (Wittenberg University)
Degrees
Ph.D. The University of Cincinnati
M.A. Wright State University
B.A. Central State University
Research Interests
Hip Hop Studies
Afro-diasporic Theories
Post-colonial Theory and Literature (Anglophone African)
Post-colonial Theory and Literature (Anglophone Caribbean)
African-American Literature
Critical Race Theory (Black Masculinity)
Cultural Studies
Composition and Rhetoric
Selected Publications and Presentations
Publications
"Shawn Carter: The Self-Reliant Philosopher King." Essays on Hip Hop's Philosopher King. Ed. Julius Bailey. McFarland, 2011.
"By Any Means Necessary: Kanye West and the Hypermasculine Construct." The Cultural Impact of Kanye West. Ed. Julius Bailey. Palgrave-Macmillan, 2014.
Presentations
Paper: "Navigating the Superstructure: 'Of Mimicry and Kanye West'" - Conference: University of Cincinnati Interdisciplinary Graduate Conference, March 2014
Paper: "By Any Means Necessary: Kanye West and the Hypermasculine Construct" - Conference: Hawaii International Conference of the Humanities, January 2014
Paper: "Misogyny, Kanye West, and Constructed Identities" - Conference: National Council of Black Studies, March 2013
Paper: "Resisting My Mother: Misogyny, Kanye West, and The Street" - Conference: Hawaii International Conference of the Humanities, Jan 2013