The Business Portfolio is a required assessment process for all senior business majors. This assessment has two parts. The physical portfolio includes three to five elements demonstrating the student's ability to apply business theory and concepts to situations drawn from the student's experiences since becoming a business major. The oral assessment that includes a presentation on a management topic of the student's choice followed by questions from the student's team of faculty and manager evaluators.
To obtain distinguished status a student must have an outstanding physical portfolio, followed by an exceptional oral presentation. Students who are candidates for distinguished status from their physical portfolio not only have to present their oral presentation to two faculty members, but also to successful business managers and practitioners. Students' career objectives determine which practitioners judge their presentation. Only students whose represent the highest caliber of work and that truly stand out are given the status of Distinguished.
Congratulations to this year's distinguished presenters!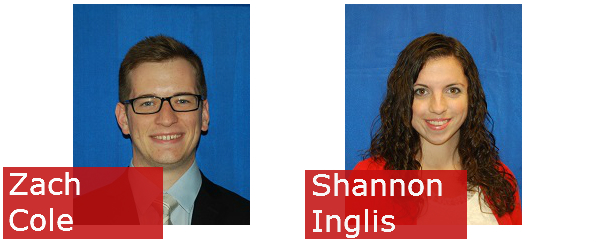 | | | | |
| --- | --- | --- | --- |
| | Distinguished Portfolio Award | | Honorable Mention |
| 2015 | Zach Cole | 2015 | Chase Beach |
| | Shannon Inglis | | Alyssa Delaney |
| | | | Beth Hubbard |
| | | | Meghan Loofbourrow |
| | | | Domenic Luckino |
| | | | Carolyn Wong |
| 2014 | Ashley Brake | 2014 | Molly Alderson |
| | Silas Newcomb | | Jenna Gentner |
| | MacKenzie Hopkins | | Ben Hogenkamp |
| | | | Francine Murzynski |
| | | | Deanna Mychalishyn |
| | | | Steven Newell |
| | | | Tyler Visage |
| 2013 | Erica Cartharn | 2013 | Zachary Finke |
| | Aly Michaud | | Emily Huffman |
| | Miranda Pettit | | Lauren McMahon |
| | | | Garth Whitaker |
| 2012 | Kim Dyer | 2012 | |
| | Hillary Monnin | | |
| | Aaron Swartz | | |
| | Valarie Vogt | | |