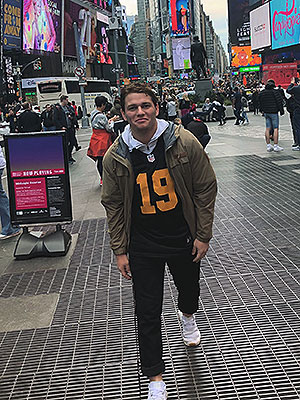 Many undergrads choose Wittenberg to begin their journey into the business world for a reason: The Wittenberg Business Department does an incredible job in developing its students into confident, able, and excelling students of business. I have had the opportunity to create genuine relationships with many of the faculty, which have allowed me to confidently present my work and myself both in and out of the classroom. Not to mention, business students are continually exposed to networking opportunities with industry leaders and Wittenberg alumni. The opportunities to take yourself to the next level are readily available here at Wittenberg.
That being said, I am extremely excited for my post-graduate life. I have not yet decided where I will be working, but I do know I will be diving into the advertising industry. My passion lies within Integration Strategy, which allows me to capitalize on my digital and social marketing talents, as well as embrace my analytical spirit and see ample face-time with clientele. Down the road I also see myself earning my master's degree in Consumer Behavior, Integrated Media, or something similar from a respected graduate program, but first I have to tackle the GRE.
As a double major in Psychology and Marketing I have always found my niche in why consumers behave the way they do. My interest in overall human behavior fueled my desire to study in our Psychology department, and my passion for analytical thought, brand creation, and creative marketing pushed me to chase a degree in Marketing here at Wittenberg. Furthermore, Dr. Stephanie Little, Psychology Department Char, has had a continuous impact on me during my 4 years. Although her primary goal is to prepare Psychology students to tackle graduate school and be exceptional professionals in the psychological field, she has always been extremely supportive of my desires to work in the business world. She always encourages me to tailor assignments to my personal passions and put my own twist on psychological concepts and research. Dr. Little has truly shown me the importance of understanding and how far being flexible can go for a student.
Wittenberg is a place of culture. The students make the daily grind worthwhile with fun, spontaneous, and meaningful relationships to fall back on. If you are coming into Wittenberg University, excited for the future, I would tell you to keep that excitement. College is difficult – there will be miserably long nights in Hollenbeck and exams that did not go the way you wanted – but there will also be friends by your side, plenty of opportunities to get involved, and 4 year's worth of chances to grow yourself as an individual. Stay excited, work hard, and do not doubt yourself. Go for it.