Jack Berlekamp addresses the issues of: Why Ohio? Trials and Tribulations of a Tech Start up
April 14, 2011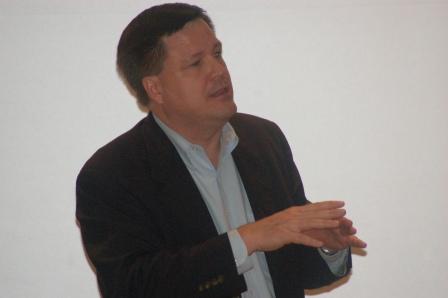 Springfield, OH –When students and faculty gathered in Kissell Auditorium, April 7, to hear Jack Berlekamp's keynote lecture, they learned about his journey to start his own technology business. In 2005 Berlekamp created, and still owns, Pallas Systems, LLC a privately held electrical/electronic manufacturing company with strong ties to the defense industry.
Berlekamp graduated from The Ohio State University in 1986 with his bachelors of science in political science. Since then, he has been involved in sales, marketing and product development of advanced electronic test equipment. During the 1990's, Berlekamp helped build a team that developed the synthetic instrument concept and applied it to challenging measurement problems in the satellite production arena. His team extended these techniques into general production tests of microwave subassemblies. Berlekamp's specialties lie in product development, market identification, business-to-business sales, and marketing organization development.
From running his own business, Berlekamp had great advice for students wanting to start their own business. "The first step in creating your own business is to come up with an idea for something that you love." Berlekamp did warn the audience to not make your hobbies into a career because sometimes it will wreck that hobby for you. "Business is more than just a hobby, a lot more goes into running your own business like accounting, cleaning, marketing…etc." Berlekamp suggest talking to people about their problems then solving their problems with your idea for a business.
Berlekamp also stressed that you have the ability to move where your funds are. "To start a business you need to look at demographics of where the best place for your business would be." Berlekamp move his business from Columbus to Springfield because Dayton was where he could find financial backing. You also want to make sure your business is in a place where it can reach your customers and obtain the employers that you need.
Berlekamp recommended that you want to define what you personally want to get out of your company. Do you want to be rich, save enough money for retirement, sell your company off or just have a comfortable salary? This will help you to define your goals of your company.
Berlekamp believes Ohio is a great place to start a company, but you must not be scared to fail. You have to expect to fail because most companies within the first couple years go out of business. There is always risk that comes with starting your own company, but Berlekamp shared that it can be worth the risk. "Sometimes it takes 3 to 4 tries to make a business idea work." And he prodded the audience to use their youth as an advantage. "If you want to start your own company to do it young when you can recover the losses and you do not have the obligations of a family." Berlekamp's last pieces of advice were to "not quit your day job" and "do not underestimate your ideas."
After the keynote lecture, students and faculty had the chance to ask their own questions. This was then followed by dinner with a select number of students and faculty members.
By: Katherine Martin '11