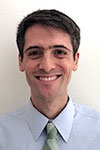 Assistant Professor of Economics and Business
Hollenbeck Hall 205
(937) 327-7393
coureyg@wittenberg.edu
Gabe Courey has taught introductory economics, labor economics, managerial economics and statistics. He co-founded and facilitates the economics club which hosts speakers, discussions and trips for all students interested in economics.
His research interests include applied microeconomics, labor economics and industrial organization. He has published research on wage inequality and location choice. Current projects focus on nonprofit organizations and incentives in team production.
Gabe received his Bachelor's degree in economics from Hope College in Holland, Michigan. He received his Ph.D. in economics from the University of Wisconsin-Milwaukee. He joined Wittenberg in 2018. Gabe enjoys soccer, cooking, and spending time with his wife Trena and two kids, Callie (4) and Ezra (1).