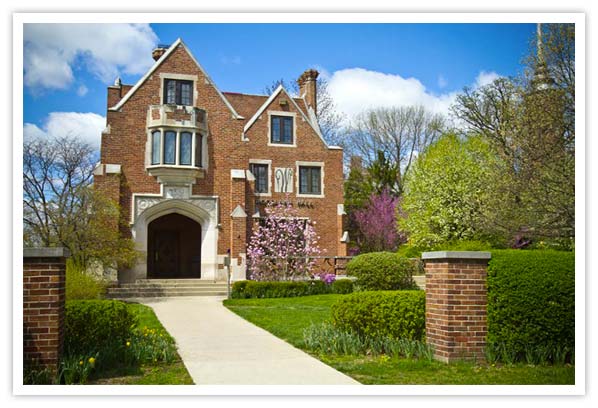 Woodlawn Hall is coed by floor, housing 102 residents on four floors. Located conveniently along Alumni Way, it is in close proximity to the Benham-Pence Student Center, Thomas Library, Kreig, and Blair Halls. The residence features updates including restroom and lounge renovations. Residents love the close-knit community and charming architecture of this home away from home.
Virtual Tour
(Coming Soon...)
Floor Plans
Hall Amenities
T.V. Lounge
Study lounge
Computer Lounge (3rd Floor)
Laundry Facility (every floor)
Foosball table
Microwave
Vending Machines
Cable and Internet access in every room
Student Mail Information:
Please Note: Your full name and campus box number must be included on all incoming mail/packages ensuring timely delivery and to avoid unnecessary delays. Your mailing address will differ depending on the method that mail/packages are sent.
Mail/Packages sent via regular postal mail service:
Student's full name
Wittenberg University, Box ______
P.O. Box 6100
Springfield, OH 45501-6100
Mail/Packages sent via FedEx or UPS:
Student's full name
Wittenberg University, Box ______
734 Woodlawn Avenue
Springfield, OH 45504