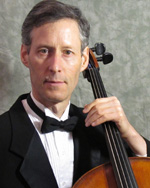 Professor
Music Theory, World Music, Cello, Bass
dkazez@wittenberg.edu
Daniel Kazez has performed recitals throughout Europe, including London (the Manor House and Sternberg Centre), Paris (Temple Victoire), Brussels (Cercle Ben Gurion), Salzburg (Chabad House), and Cardiff, Wales. His Paris and Florence debuts earned him standing ovations and he performed to a standing-room-only audience at Rome's Il Pitigliani. He has performed at international music festivals in Berlin, Prague, and India and presented a concert tour in Eastern Europe with performances in the Czech Republic (Congress Hall, Prague; Jesuit Hall, Český Krumlov), Poland (Herbst Palace, Łódź; Ośrodek Promocji Kultury, Częstochowa; Centrum Kultury Żydowskiej, Cracow), and Hungary (Bálint Zsidó Közösségi Ház, Budapest. Kazez's first performances in Africa were in Casablanca (Abbon al Abdullah) and in Morocco's three "imperial cities": Royal University Moulay Ismaïl in Meknes, National Conservatory of Music in Marrakesh, and Centre Maïmonides in Fez (as part of Morocco's thirty-seventh national Fête du Trône celebration). Kazez has performed and lectured in Bangkok and northern Thailand and has recorded with the Bombay Film Orchestra (Hum Ko Deewana Kar Gaye, 2006).
Dr. Kazez is the author of more than a dozen scholarly articles on music theory, pedagogy, and performance, a dozen editions of music (published by Alfred, Presser, Southern, Ludwig, and MMB), and two books. Rhythm Reading: Elementary Through Advanced Training (W.W. Norton) is the most widely used rhythm textbook in the U.S. Kazez has given talks at twenty-five leading U.S. music schools, including the Manhattan School of Music and the University of Texas. He conducted research in India and gave a series of 14 lectures and performances, including appearances in Bombay (Indian Institute of Technology and Indira Gandhi Institute of Development Research), Madras (one-week residency at the School of the Krishnamurti Foundation in Madras), and Pune (Kala Chhaya Festival). Kazez was editor and principal contributor for Imprints of India: A Brief Guide to Indian Music, Dance, and the Visual Arts. Kazez has conducted research in Java and Bali (gamelan music, dance, and shadow puppet theater) and in Turkey and Greece (urban folk music). His activities have been supported by grants from the Lilly Foundation, Wray Foundation, and Ohio Arts Council. He was the recipient of the 1996 Matthies Award and a 1996-1997 University of Chicago/Andrew W. Mellon Foundation Fellowship. Kazez earned a Bachelor of Music degree at Oberlin Conservatory, Master of Music at Peabody Conservatory (Johns Hopkins), and D.M.A. at the University of Michigan-Ann Arbor. He joined the Wittenberg faculty in 1986. In addition to music, Dan enjoys bicycling and genealogy (tracing his family tree back to pre-surname records).