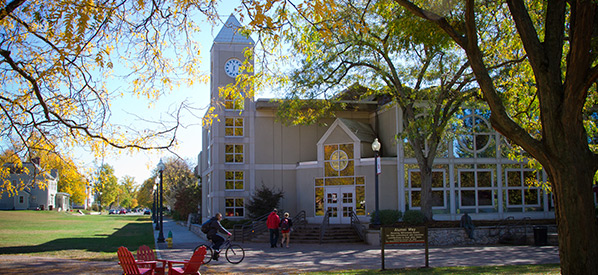 The central meeting place for students, the Benham-Pence Student Center, is located on Alumni Way.
After an extensive renovation of the lower level in 2009, the student center opened Doppelgangers, a game room and Founders, a popular performance venue and pub. Doppelgangers houses big screen televisions, multiple gaming systems, popular arcade games and classic table games such as table tennis, air hockey and billiards. The Gus Geil Lounge, also in the lower level, features a large-screen television above the fireplace, a seating area and several computers. The campus mail room and Union Board office are also on the lower level.
Wireless internet is available throughout the center, including the dining areas. The Wittenberg Bookstore and Post 95, a restaurant-style eatery that serves light meals and snacks, are located on the main floor. In addition, several meeting spaces are also available in the Benham-Pence Student Center.
The 400-seat Center Dining Room (CDR), which serves as the main dining area for students, is located on the second level and is managed by Parkhurst Dining.
The Student Center provides the main source for communication to students living on campus and houses the Office of Student Involvement, which is responsible for many campus wide events, such as the Student Involvement Fair and Witt Late Night.